Diesel tech and mad scientist Sam Turner from Atlanta, Georgia created an 11-foot-long custom motorcycle powered by a twin-turbo diesel V-twin. Sam wanted to build a motorcycle around a 840 cc Yanmar direct injection diesel V-twin.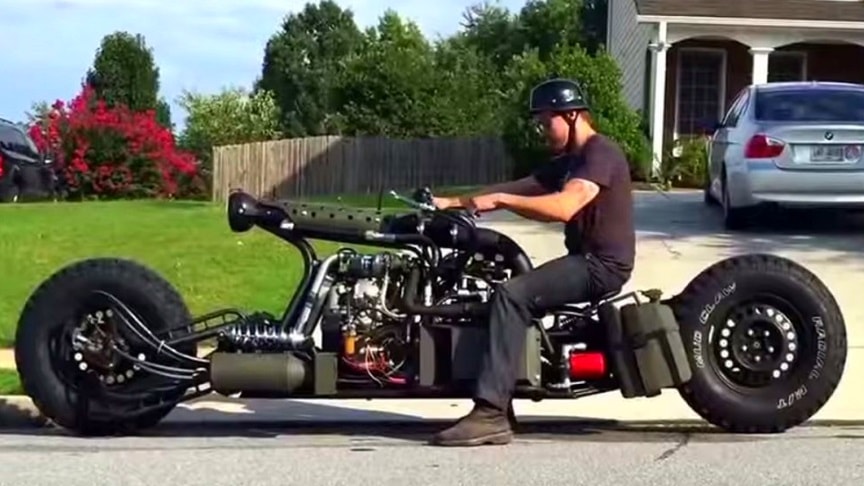 source/image: Choppertown
The engine runs two RHB31 turbochargers and a intercooler from a Suzuki Swift.Then he decided he wanted the bike to operate like a diesel electric, where the engine powers an electric generator that provides electricity to the wheel motors.
This is when the idea of making the bike AWD started.The bike measures at a staggering 11-feet and 3-inches, complete with two 2.5 gallon air tanks,and a fabricated heat shield that resembles a gun heat shield.
Advertisement
Sam decided to make the custom motorcycle all-wheel drive by switching to a hydrostatic system, where the wheel motors turn courtesy of hydraulic fluid."I decided against it simply because the costs were too high," Sam said. "Even though the diesel-electric part of the build was scrapped, I still wanted to try to keep the all-wheel-drive aspect of it." As a result, Sam put on Carrara 400lb coilover shocks, Parker hydraulic hoses, two Airmaaxx 2500lb airbags, and an Airmaxx 12-volt compressor to achieve the low stance and also give the bike the ability to sit on its frame when parked.