The The Hoverbike S3 is manufactured by Californian company Hoversurf, and has been through several prototype stages to the point of actually going on sale.Apparently, it keeps you aloft with four spinning rotor blades on top of a carbon fibre body.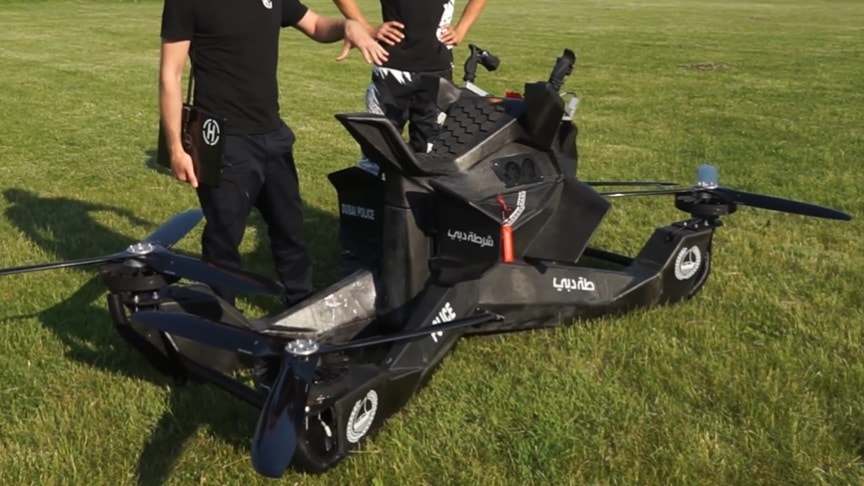 source/image(PrtSc): HOVERSURF OFFICIAL
The Hoverbike Scorpion-3 is offered with a new hybrid lithium-manganese-nickel battery that allows riders to fly up to 40 minutes in drone mode. In this video Hard Enduro MX champion Malikov flyes the Hoverbike S3, the pilot weight is 95 kg (209 Lbs).
The new ergonomics of the pilot's seat allows a person to sit comfortably at any height. In this model, stability is improved by spacing the axes by 5 cm (1.9 in). In this case, the dimensions of the hoverbike allow it to be rolled in a standard doorway while also having ability to take-off and land from an ordinary parking space.
Advertisement
The weight of the hoverbike is 114 kg (253 pounds) limited by law, but by reducing the weight of the frame it allowed us to install a more capacious battery. Our safe flight altitude is 5 meters above the ground (16 feet), but the pilot himself can adjust the limit to their comfortability. The maximum speed is limited to 96 km / h (60 mph or 52 knots) according to the requirements of the law.