Gernot Bruckmann flies his beautiful Pilatus PC-21 at the FLY-IN of the Falcon Wings in 2018.The PC-21 is an advanced single-engine trainer aircraft. One of the PC-21's strengths is that it can provide ease of use for inexperienced pilots while offer a greater challenge to advanced pilots. It is a Swiss design and flew for the first time in 2002. The airplane went into mass production end of 2004.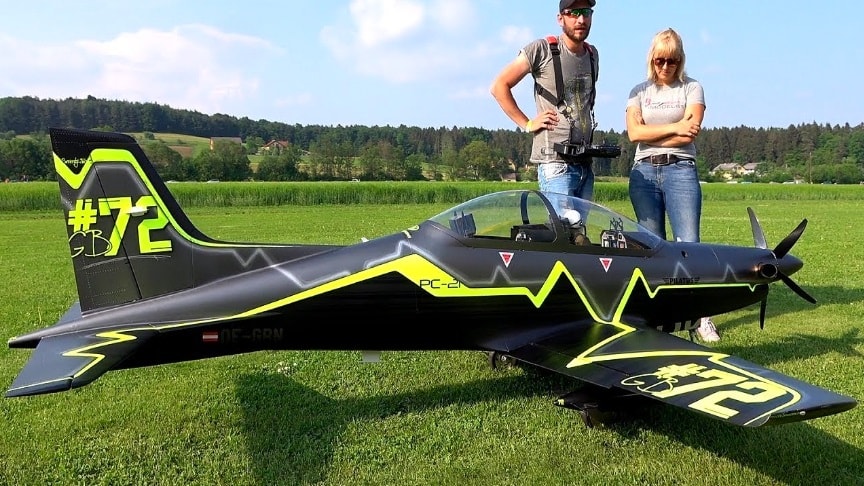 source/image(PrtSc): RCScaleAirplanes
And what is more challanging for Tomahawk Design then to come up with a perfect replic of thsi well know aircraft. It is designed beutifully, it offers a very precise level of detial. The surface finishe is state of the art. And the flight performance and the handling is superb. The PC-21 from Tomahawk, a must have with trubo prop propulsion system. An electric power system is in preparation.
The PC21 is beeing produced in a vacuum sandwich technology in FRP and CRP. It is built to strength but with the consideration of a maximum of 25kg takeoff weight. It offers a lot of details and is as close to the original as possible.
Advertisement
It contains lots of detailed solutions for an easy build up. The access to the engine is very easy through a large hatch. We offer an electric retract system as also an hydraulic scale retract system. The basic kit comes in white. Different base colors as also a full decoration is avaulable on request. We also offer a very detailed cockpit close to the layout of the original.
Model data:
Scale: 1/3.4
Span: 2.68m
Lenght: 3.3m
Weight: 23 Kg
Turbine: Pahl Taurus Turboprop
Propeller: 5blade 22×14″
Kit: TOMAHAWK Design