Decoliner Custom Built. The brilliant creator of Pistol Pete and the Tank Car Randy Grubb is back with his latest – a motor home inspired by a houseboat with a flying bridge.
source/image: Jay Leno's Garage
The wild custom Blastolene build called "The Decoliner" is basically what Flash Gorden's Airstream motor home would look like. This 26 ft aluminum beauty features a flying bridge, complete with driving station and room for 5 passengers on the roof!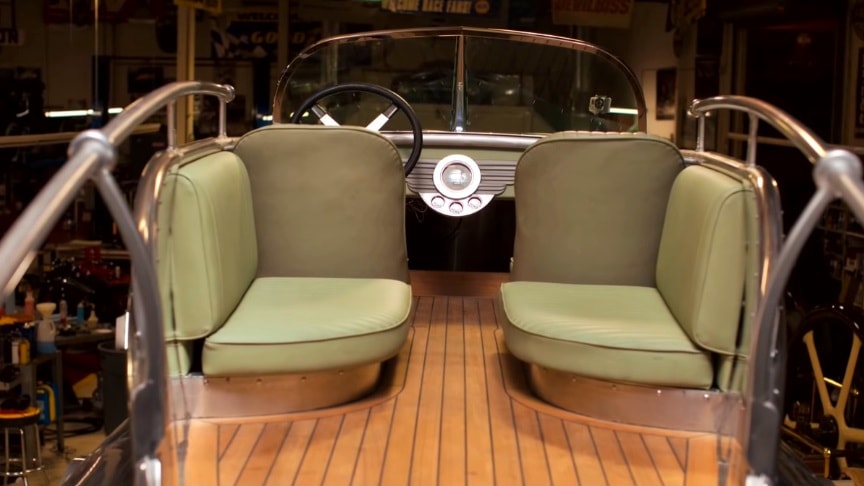 source/image: Jay Leno's Garage
This was designed and conceived as the ultimate promotional vehicle. The specific layout of the RV's interior can be tailored to your particular needs.
Advertisement
Its entire body was hand-fabricated from aluminium by Randy Grubb, with the help of the talented team of Blastolene Cars. The Decoliner rides on the chassis of a 1973 GMC Motorhome, with the front cab of a 1953 White COE (cab-over-engine). Everything else was fabricated based on Mr. Grubb's own designs.
The inside has a warm and inviting retro-tastic decor with plenty of light from the hand-blown glass porthole windows.The Decoliner can be driven from inside or outside in its "flying bridge" configuration. Once you step inside the DecoLiner is surprisingly spacious for its size, and it is really well organized with a couch, extra seating and a kitchenette.