The Stirling engine model is working fluid operates at different temperature levels, converting the thermal energy into mechanical work. The engine is like a steam engine. The heat of all the engines flows in and out through the engine wall. The benefit of the Stirling engine is its simplicity and ease of use.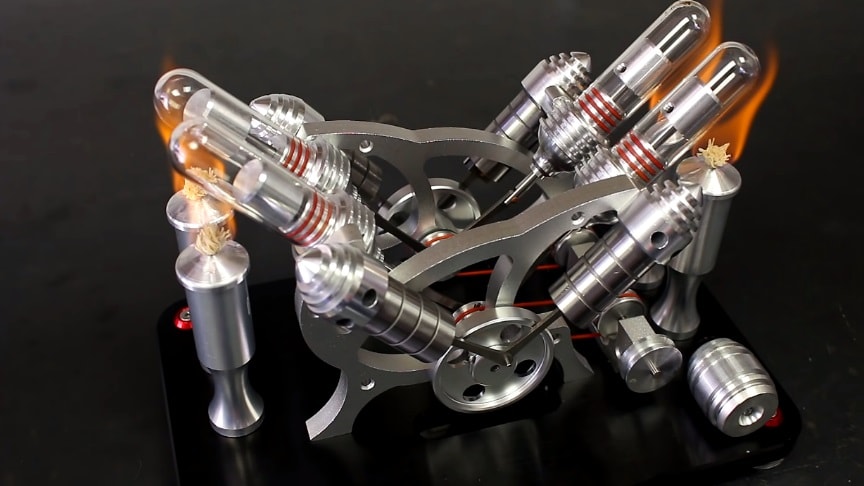 source/image: JohnnyQ90
The Four cylinder Stirling engine is MUCH MORE BIGGER than most of the stirling engines you can find. It's very heavy, 5.2b, so it can run stably on table. Once this engine runs, you will be wowed. People love the sound and the power it reveals. It runs at speed up to 1300 to 1500 RPM.
The Stirling engine model power generation voltage is 4-9v and match colorful LED light. The flywheel rotating faster, which will make the generator's LED lights flickering wildly. When the machine works, it will be very shocking and attracting eyeballs.
Advertisement
The engine model on the horizontal position by hand toggle the flywheel to see if smooth, if there is a strong sense of raw astringent, check the connection rod is normal, whether the cylinder oil and dust, and if so, please use toilet paper to erase Not smooth. Toggle the flywheel feel pressure rebound within the cylinder body is a normal phenomenon, the cylinder is sealed.
Description:
Item Name: Four-cylinder Engine
Model Size: 270X165X160mm
Flywheel Diameter: 64mm
Piston Diameter:16mm
Piston Stroke: 20mm
Inner Diameter of the Heating Pipe: 20mm
Diameter of Belt Pulley: 29mm