The Hawk was developed in England by British Aerospace in the 70s as a successor of the hunter. It was used as trainer jet as well as in the armed version. The hawk was well known throughout the world by their spectacular displays of the British aerobatics team "Red Arrows".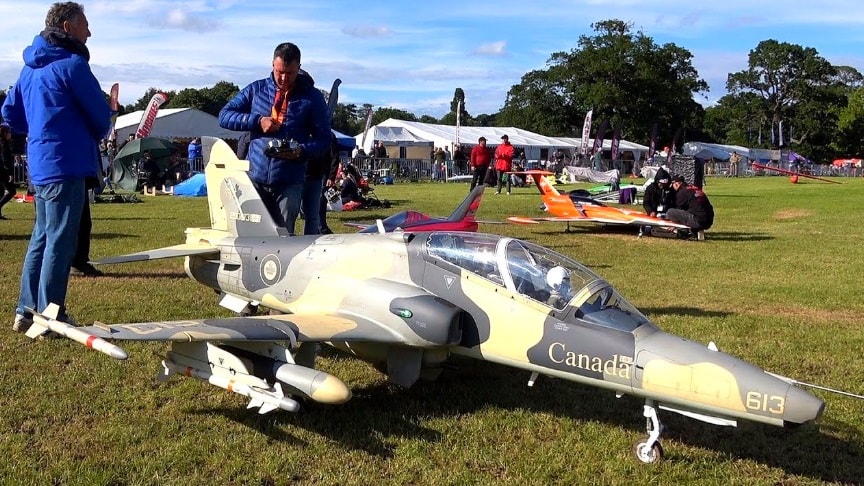 source/image: RCScaleAirplanes
This time, we check out a gigantic fighter jet replica, measuring to a 1:3.5 scale and this thing is killer to watch as it maneuvers throughout the sky. Steve Johnson flies his awesome BAA Hawk 100 at Weston Park International Model Show 2019.
This model a fully detail aircraft. Complete with CNC-Machined shock-absorbing metal landing gear and gear covers, detailed panel lines, a realistic pilot figure, removable fuel tank, extremely bright LED lights and retracts and flaps.
Advertisement
In this RC model of the Hawk 100 the owner has done everything possible to offer you a jet model with all the scale features. Thus, all rivets and panel lines, maintenance hatches, boundary layer fences etc. were taken from the original.
Model data:
Scale: 1/3.5
Span: 2.85 m
Length: 3.7 m
Weight: 24 kg
Turbine: JetCat P300
Kit: Tomahawk Aviation
Build and painted by Phil Noel, Pinnacle Aviation