The giant among the rotary rakes. Variable, up to 19,00 m (62'4″) work widths and up to 3,00 m (9'10") swath widths. Furthermore equipped with an intelligent transport wheel steering.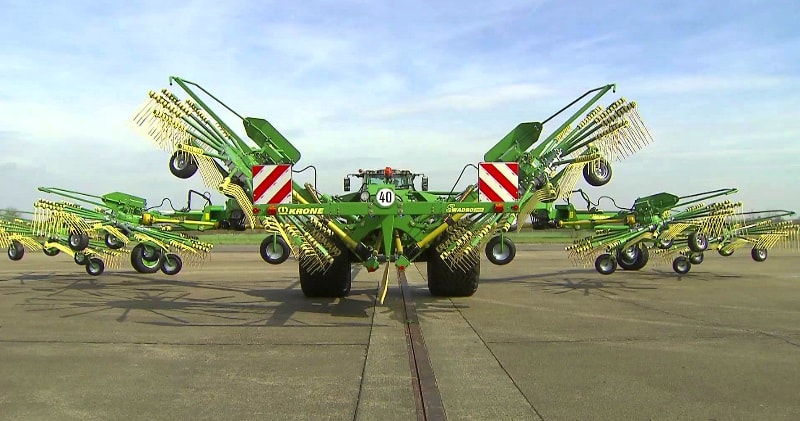 source/image: KRONE T-Vision
Swadro 2000 from KRONE is the biggest machine on the market which brings you unsurpassed efficiency, very little maintenance and quickest changeovers as well as high transport speeds, great longevity and a maximum of operator comfort and on top covers up to 20 hectares (49.5 acres) per hour.
Swadro 2000 offers electric rotor height adjustment from the cabin with height shown on the LCD screen.New on this Plus model is the ability to adjust one rotor followed by a push of a button so that all other three rotors adjust to the same tine height.
Advertisement
The windrows produced by Swadro 2000 are about 30% shorter per hectare than those produced by a four-rotor rake. A 30% shorter windrow translates into fewer passes and an up to 15% higher output of the following harvesters. As such, Swadro 2000 presents the ideal machine for large-scale and contracting operations.