For quick and reliable construction of vertical shafts, Herrenknecht developed its VSM (Vertical Shaft Sinking Machine) technology, today an established product on the market. This unique mechanized shaft sinking equipment shows its strengths particularly below groundwater.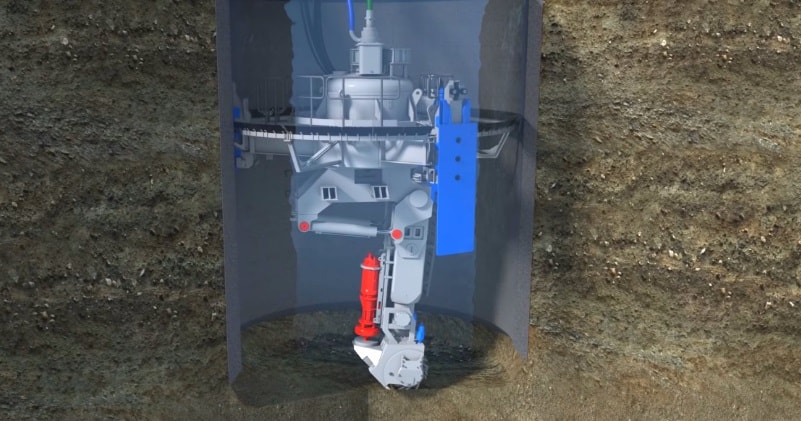 source/image(PrtSc): HerrenknechtAG
In general, it can be used in soft and stable soils with compression strengths of up to 80 megapascal. Every Herrenknecht Shaft Sinking Machine consists of two main components – the shaft boring machine and the lowering units. The shaft boring machine is lowered into the launch shaft structure and attached firmly to the shaft with its three machine arms.
A rotating cutting drum equipped with chisel tools is attached to a telescopic boom. This roadheader excavates and breaks the soil at the base of the shaft. The roadheader is telescopic, and can swivel up and down or rotate. Hence, the entire cross-section of the shaft plus an overcut can be excavated gradually.
Advertisement
The excavated material is removed hydraulically through a submersible pump and transported to the separation plant on the surface. Can be used in soft and stable soils up to 80 MPa and below groundwater.High advance rates of up to 5 m per shift due to parallel work processes.Flexible arrangement of the machine equipment enables use even under tight space constraints.