Recently, we had the chance to encounter the Aitekx RoboTruck 1T at the Los Angeles Auto Show, and we've captured it on film to share with you. Initially, from a distance, it bore a striking resemblance to the Tesla Cybertruck. However, upon closer inspection, it became evident that this was a different beast altogether.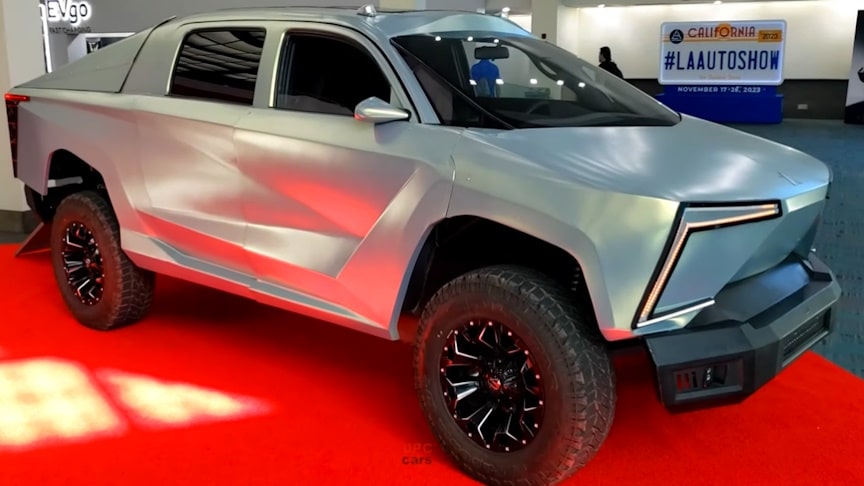 source.image: DPCcars
The RoboTruck 1T is a mid-size battery-electric pickup truck crafted by an E-Mobility startup hailing from Silicon Valley, California. Yes, you heard that right – it's an American creation, and there it stood, right before our eyes in LA, not just a figment of our imaginations.
Now, your initial reaction might be along the lines of "What's the deal with this?" Well, let's get the facts straight from Aitekx themselves: "Versatile, luxurious, powerful, practical, and enjoyable, with a spacious 6-foot bed, this unique multifunction midsize pickup, also known as a UTE, is smashing through stereotypes."Interested buyers can reserve the RoboTruck 1T in either rear-wheel drive (RWD) or all-wheel drive (AWD) configurations, with an expected EPA estimated range of up to 550 miles.
Advertisement
Performance-wise, it's expected to go from zero to 60 mph in a brisk 3.5 seconds and reach a top speed of 165 mph.Now, let's talk numbers. The RoboTruck 1T single-cab model with rear-wheel drive starts at a base price of $45,000, while the double-cab variant is priced at $59,000. If you're looking for the AWD Sports version, be prepared to shell out $79,000, and the flagship HyperAIX Sports Signature AWD model is available from $99,000.via: DPCcars