Alfa Romeo RZ review! The Alfa Romeo SZ and RZ are two of the strangest sports cars of the 1990s. Today I'm reviewing the Alfa RZ (the convertible version of the Alfa SZ) and I'll show you the quirks and features of the Alfa RZ/SZ. I'm also going to drive the Alfa Romeo RZ and show you what it's like behind the wheel of this odd car.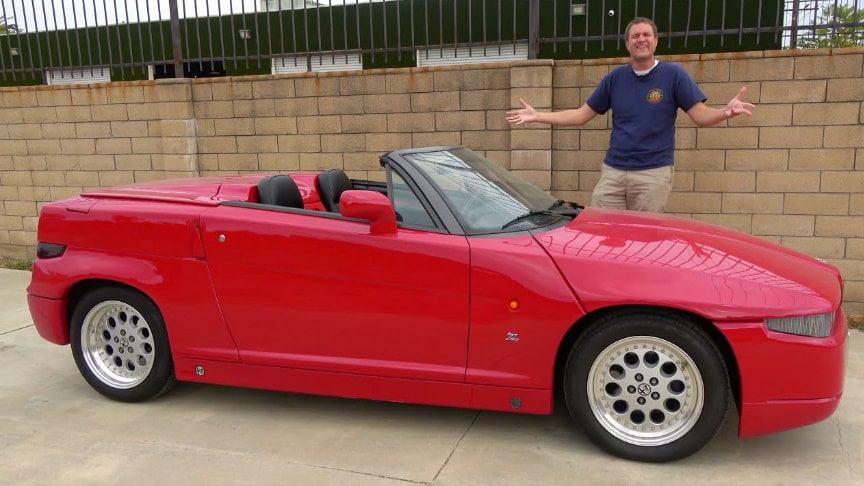 source/image(PrtSc): Doug DeMuro
The Alfa Romeo SZ (Sprint Zagato) or ES-30 (Experimental Sportscar 3.0 litre) is a high-performance limited-production sports car built between 1989 and 1991 by a partnership between Centro Stile Zagato, Centro Stile Alfa Romeo and Centro Stile Fiat. Watch the video from Doug DeMuro:
The Powerplant the RZ was a 2,959 cc 3.0 L; 180.6 cu in naturally aspirated V6 SOHC 2 valves per cylinder, fed by Bosch Motronic ML 4.1 fuel injection, rated at 210 PS (207 hp; 154 kW) at 6,200 rpm and 245 N⋅m (181 lbf⋅ft) of torque at 4,500 rpm.
Advertisement
Mechanically and engine-wise, the car was based on the Alfa Romeo 75, with production being carried out by Zagato at Terrazzano di Rho near the Alfa Romeo factory in Arese. The suspension was taken from the Alfa 75 group A/IMSA car,[3] and modified by Giorgio Pianta, engineer and team manager of the Lancia and Fiat rally works team. A hydraulic damper system was made by Koni. /wikipedia