The Pave Hawk is a modified Black Hawk helicopter. The Sikorsky MH-60G/HH-60G Pave Hawk is a twin-turboshaft engine helicopter in service with the United States Air Force. It is a derivative of the UH-60 Black Hawk and incorporates the US Air Force PAVE electronic systems program. Let's see how it works! Thanks to Air Force pilots "Floppy" and "Stew" for their help in creating this video.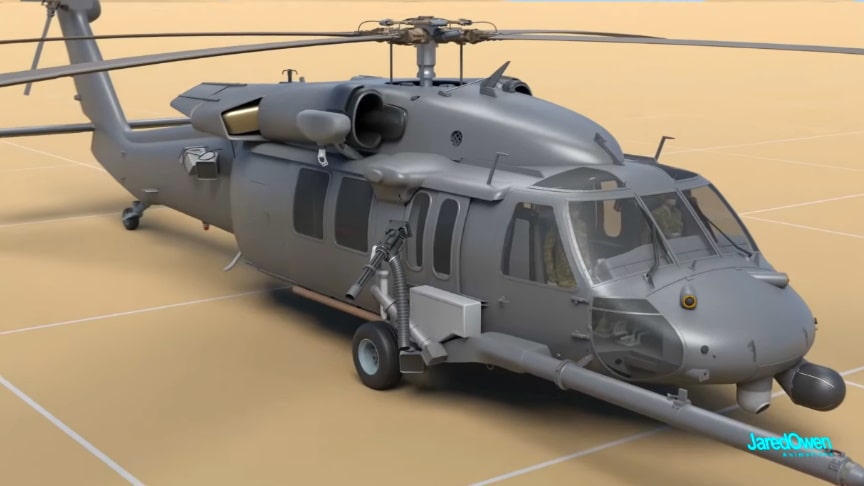 source/image(PrtSc): Jared Owen
The Pave Hawk is a highly modified version of the Sikorsky UH-60 Black Hawk.It features an upgraded communications and navigation suite that includes an integrated inertial navigation/global positioning/Doppler navigation systems, satellite communications, secure voice, and Have Quick communications. The term PAVE stands for Precision Avionics Vectoring Equipment.
All HH-60Gs have an automatic flight control system, night vision goggles lighting and forward looking infrared system that greatly enhances night low-level operations. Additionally, some Pave Hawks have color weather radar and an engine/rotor blade anti-ice system that gives the HH-60G an all-weather capability.
Advertisement
Pave Hawk mission equipment includes a retractable in-flight refueling probe, internal auxiliary fuel tanks, two crew-served (or pilot-controlled) 7.62 mm miniguns or .50-caliber machine guns and an 8,000 pound (3,600 kg) capacity cargo hook. To improve air transportability and shipboard operations, all HH-60Gs have folding rotor blades.//wikipedia