This is the brand new Audi A6 Avant E-Tron Concept that's due to be released in 2024. Audi has displayed some seriously impressive technology in the A6 Avant E-Tron such as projectors all around the car, you can even project video games from the front headlights. Today Sergi gives us a closer look at what is shaping up to be one of the coolest cars ever made.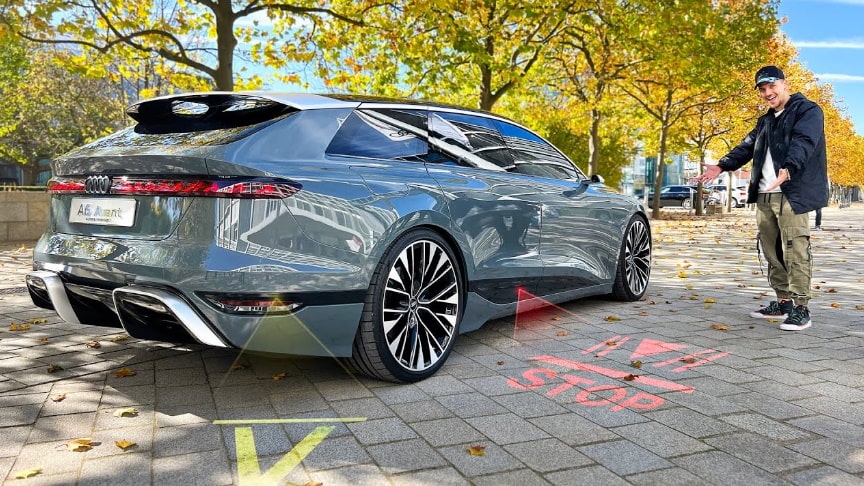 source/image: Supercar Blondie
The flat headlights and taillights are slim and flush with the overall composition of the lines.Three small, high-resolution LED projectors are built into each side of the body, transforming the ground beneath them into a stage when the doors are opened – small, extended, dynamic lighting effects greet the occupants with messages in their own language.
The A6 Avant also has an exclusively electric drive system based on the forward-looking PPE platform, developed under Audi's leadership. At the same time, it represents a new design concept with the same dimensions as the A6 Sportback e-tron. At 4.96 meters (16.3 ft.) long, 1.96 meters (6.4 ft.) wide, and 1.44 meters (4.7 ft.) high, its body puts it in the luxury class.
Advertisement
"With the Audi A6 Avant e-tron concept, we are offering a completely tangible look at future production models on our new PPE technology platform," says Audi Board Member for Technical Development Oliver Hoffmann. "We're not just electrifying the Avant's successful 45-year history. What we want most of all is to use technical skill to add an exclamation point. In particular, this includes powerful 800 volt technology, 270 kW of charging capacity, and a WLTP range of up to 700 kilometers (435 miles)."