The Big Fellas' Mobile Cigar Lounge.Justin Nichols of Nichols Paint and Fab and I had done a quick video the day before their 2023 Open House telling people what to expect. Where to park,The usual last minuet checking in stuff before a big event and Justin had mentioned that there would be a Mobile Cigar Lounge attending the event the next day.And that it was a trailer that a couple of Brothers had converted into a Mobil Cigar Lounge.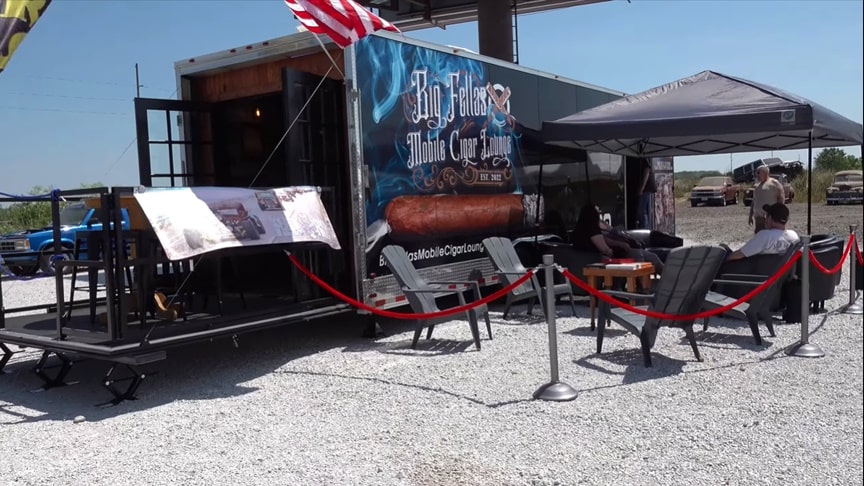 It was Air Conditioned and would make Me think I was in a old west saloon.Now I don't care anything about cigars.But I do like Me some cool.And this Big Fellas' Mobile Cigar Lounge had the potential to be cool.The 2023 Nichols Paint and Fab Open House was a Big success and there was a lot of cool to check out.Old Friends to see and news ones to meet..of course I had to shoot a few video clips and go LIVE on Facebook for ScottieDTV.
But as soon as I could work My way back to where this Big Fellas' Mobile Cigar Lounge was located I had to check it out. WOW.How cool is this!?!? Way cool for sure…As advertised it makes you feel like you are hanging out at a saloon back in the old west days.And the Brothers that built and own it.
Advertisement
Very cool Guys for sure.They are there not only to sell cigars.But to answer any questions people may have. They will show You how to properly cut a cigar…How to light it and of course the best way to enjoy one.It was a very interesting discovery.And something I have been talking about ever since.The Big Fellas' Mobile Cigar Lounge from the 2023 Nichols Paint and Fab open house.