For those seeking a serene journey through deserts and forests, emitting no harmful gases into the air, an electric all-terrain vehicle (ATV) is the perfect choice. Imagine cruising through rugged landscapes with the grace of a mouse, thanks to the remarkable Tesla Y. While it may not fit the traditional definition of an SUV, the ingenious conversion by delta4x4 could change that perception entirely.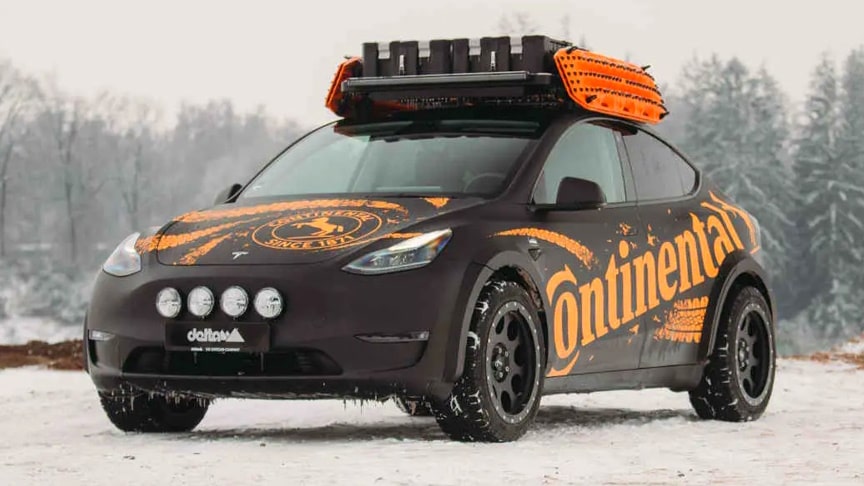 Prepare to be amazed by the newly developed suspension distance kit, designed to elevate the vehicle by approximately 35 mm. Combined with the widened track width, this modification allows for the installation of a wheel mount that lifts the vehicle a staggering 8 cm higher, granting an impressive ground clearance of around 22 cm—reminiscent of the iconic Lada Niva! This achievement owes much to the utilization of 265/45R20 Continental tires equipped with the Cross Contact ATR profile.
The ATR feature enables the Tesla Y to gracefully conquer both smooth highways and rustic forest trails alike, showcasing its superior adaptabilityTo accommodate the enhanced rims and tires, delta4x4 has ingeniously crafted eye-catching wheel arch extensions, adding an extra 60 mm of width to the vehicle's overall stance. This visually striking enhancement not only enhances the ATV's aesthetics but also reinforces its presence on the road.
Advertisement
In conclusion, the Tesla Y, transformed into an electric all-terrain marvel by delta4x4, is ready to redefine your adventures. With its elevated ground clearance, top-notch tires, striking design elements, and expedition-enhancing accessories, this ATV is the epitome of versatility.