Feel the rush of excitement as you set out on the open road in a Windsport, the perfect Class A motorhome built on a Ford® F-53 chassis.This Windsport Class A gas motorhome is going to be an amazing way to vacation! You will be living in luxury back in the private bedroom because of the RV king bed and 32″ LED TV, and you have exceptional convenience with the exterior 32″ TV and exterior kitchen.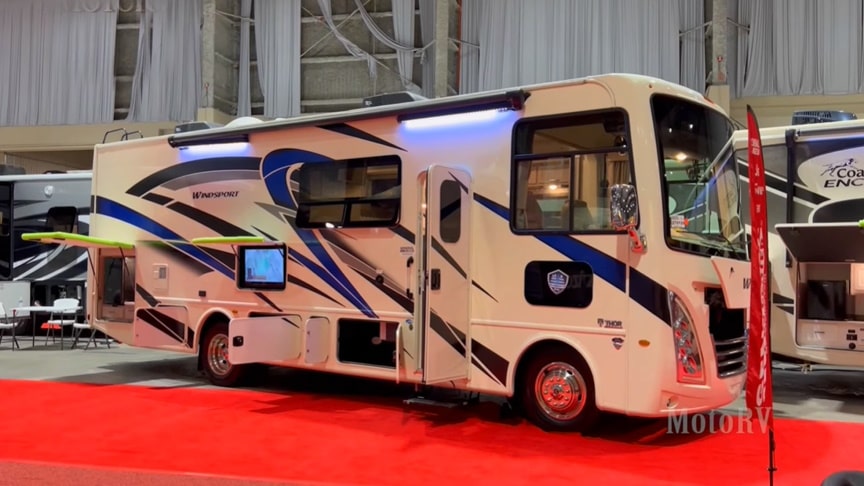 With its impressive power and maneuverability, you'll be able to tackle even the toughest of terrains and enjoy the ride. Whether you're a seasoned RVing enthusiast or just starting the RV lifestyle, Windsport is the ideal companion for your next adventure.
Back inside, you'll appreciate having a 68″ sofa bed to relax on, a three-burner stove to cook on, and a coffee table between the cab seats to set your drink on. The bathroom contains a 24″ x 36″ shower with skylight to help you stay fresh, and there is a glass door included in the shower.
Advertisement
The Windsport will gather lots of attention with its HD-MAX® exterior with graphics package. It also offers you a basement pass-through storage and a Pet-Link™ multi-purpose tie-down. The Bird's Eye™ window is so easy to see through in the cockpit, and there are reclining/swivel leatherette captain's chairs to relax in while you travel.