The BMW R42 is the second BMW touring motorcycle . November 26 was introduced in 1925, two years after its predecessor BMW R32 , from which the design is based on a motor show in Berlin . It had a two – cylinder four – stroke engine and its official top speed was 95 km / h.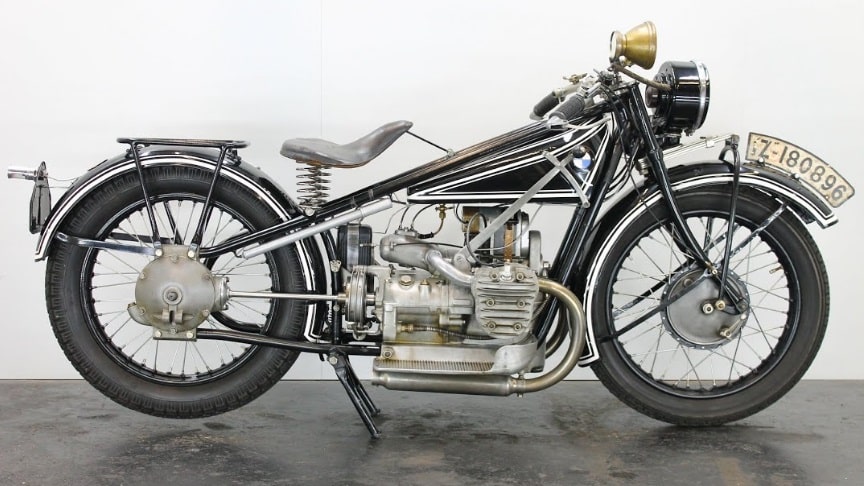 source: wikipedia /image: classic-motorcycle.com
The original price of the motorcycle in 1927 was 1510 imperial marks. By 1928, when production of the R42 was discontinued, more than 6500 units were produced. The successor was the R52.
The first owner purchased this bike 2.6.1928 from BMW dealer Folville & Mettenheimer from Frankfurt am Main. Mr. Ernst Appenheim purchased it in 19.11.83 and started with the complete restoration. Years later this R42 was finish and was ready for road.
Advertisement
This handsome R42 spent his whole life in Germany and comes with Germany papers (copy) of the "französischen Besatzungszone", original dealer plate of Folville & Mettenheimer, original Bosch lighting set, Bosch horn, Bosch MagDyno, recently overhauled OTA speedo, Lepper seat, many of pic. of the original condition + during restoration and a certificate of the BMW Archiv in Germany. This rare and original flat tank BMW has been produced 2 lasted years and runs great with its 500cc transverse engine./classic-motorcycle.com
Specifications:
Manufacturer: BMW
Model: R42
Year: 1928
Displacement: 494 ccm
Cylinder: 2 – transverse
Engine type: 4-stroke / sv
Bore / Stroke: 68 x 68 mm
Power: 12hp @ 3400 RPM
Compression Ratio: 1:4.9
Weight: 126 kg
Top Speed: 100 km/h
Production years: 1926-1928
Unit: 6502