Rocket man Bob Maddox takes his pulsejet engine powered go kart off road at the end of a long day of videoing. The twin Viper powered diesel 100 pound thrust go kart is seen drifting through the trees at a large semi pull out off the road by klamath falls Oregon.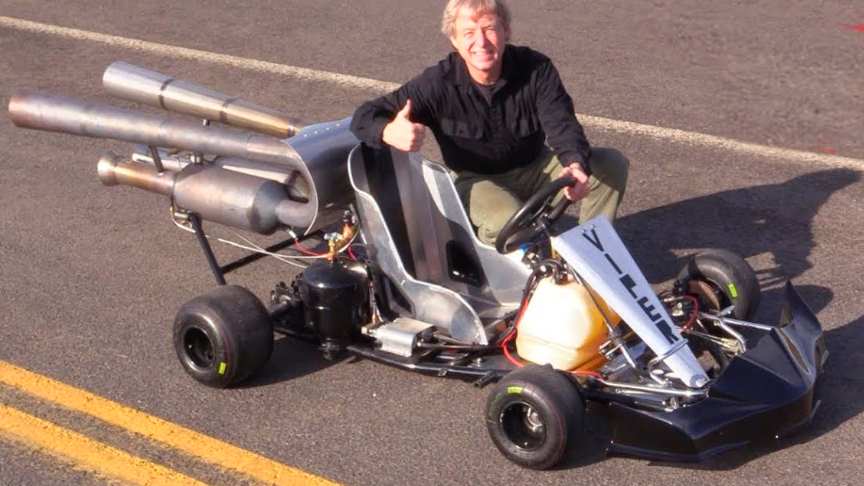 source/image: Robert Maddox
Bob's pulsejets are featured on some of the most elaborate show cars, motorcycles, and bikes ever built, and he has become one of the most prolific pulse jet designers in the world. Using his artistic background, he creates some of the world's most outrageous jet powered machines.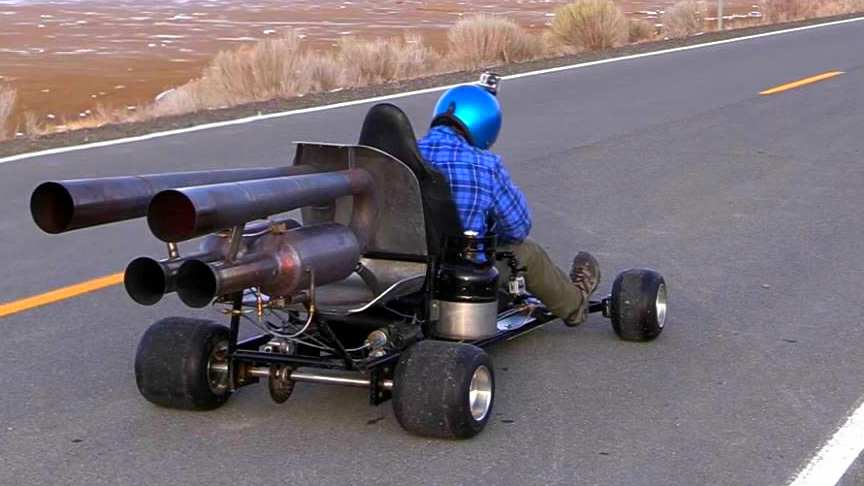 source/image: Robert Maddox
Aside from the tires, rims and brakes, Maddox fabricated the entire Go Kart – including the jet engines – in his shop. Building custom-made rocket-powered toys may have started as a hobby, but it's become a supplemental business to his career.
Advertisement
The gocaart is fitted with four tailpipes and two pulse jet engine that runs on regular 87-octane gasoline. With the ability to go from zero to 60 mph in just five seconds, Bob Maddox's bike will surely help its new owner break 200 mph.
A pulsejet engine (or pulse jet) is a type of jet engine in which combustion occurs in pulses.Pulsejet engines are a lightweight form of jet propulsion, but usually have a poor compression ratio, and hence give a low specific impulse.