The Bruder EXP-4 is an off-road expedition trailer like no other.The EXP-4 makes camping adventures easy, very easy.No set-up, no pack-up, and instantly level.The Bruder suspension truly revolutionises off-road travel and camping; not only can the EXP-4 level out uneven terrain for camping, it can counteract steep side slopes while off-roading.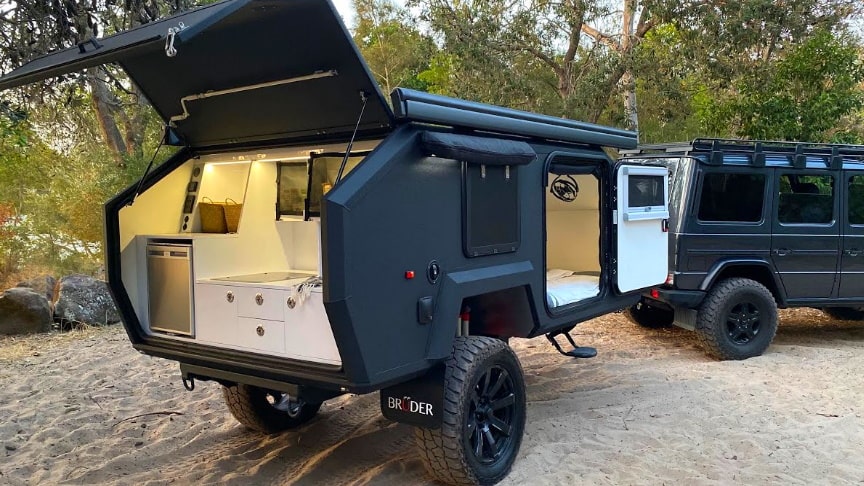 The Bruder EXP-4 is fully engineered: the suspension, the chassis and even the body construction. The EXP-4 has nearly triple the adjustable wheel travel of the nearest air suspension system. Our suspension is only available on Bruder expedition trailers and is made from Australian 450 grade high tensile circular hollow section steel and shaped to maximise ground clearance.
The EXP-4 chassis is also completely unique. It is airtight and completely sealed, with no openings for salt, sand or other debris to get caught within it (just like large ships or steel poles that hold up a seaside jetty are sealed).The chassis joins forces with the fully engineered EXP-4 body cell, which is made from lightweight composite material up to 60mm thick – engineered to handle up to 10 times its own weight.
Advertisement
The EXP-4 body uses a closed cell epoxy bonded composite, which is better insulated and has 20% more tensile strength than commonly used polyester bonds. Unlike so many "composite" trailers that use aluminium foam sandwich panels or honeycomb core panels, our material and construction methods are both stronger and more insulated./Bruder