"I built a water powered hammer called a "Monjolo". I started by making a water spout from half a hollow log to direct water from the creek. This was set up in the creek and water flowed through it. The hammer was made from a fallen tree."via: Primitive Technology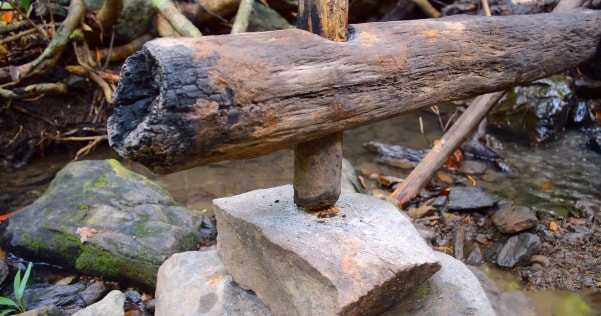 source/image: Primitive Technology
I cut it to size by burning it at the points I wanted it cut (to save effort chopping). Next I carved a trough in one end to catch falling water.This is the first machine I've built using primitive technology that produces work without human effort. Falling water replaces human calories to perform a repetitive task.
A permanent set up usually has a shed protecting the hammer and materials from the weather while the trough end sits outside under the spout.This type of hammer is used to pulverise grain into flour and I thought I might use one to mill dry cassava chips into flour when the garden matures.
Advertisement
This device has also been used to crush clay for porcelain production. A stone head might make it useful as a stamp mill for crushing ores to powder. It might pulp fibres for paper even.