Dustin Feider first built a treehouse for his dad's "epic" trees, then every neighbor on the Wisconsin street asked for one of his unusual builds. His first structure was made from recycled plastic, but what set him apart was his exploration of a suspended geodesic dome. Fresh out of furniture design school, he wanted to create a prefab pod that anyone could throw up in their trees.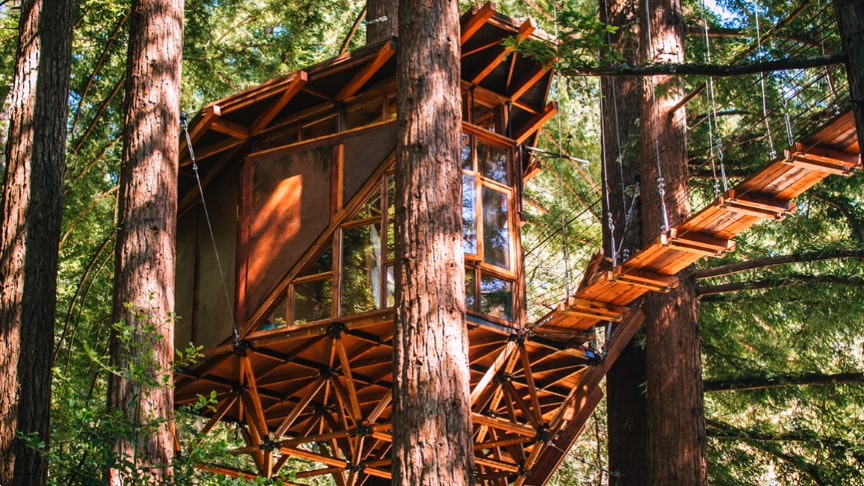 source/image(PrtSc): Kirsten Dirksen
He developed a Lego-like hub and strut platform system called Tetratruss that allows arboreal architects to build in remote and hard-to-reach locations with minimal impact on the trees. Combined with his insulated panel system, O2 Treehouses can be prefabricated and shipped to sites install-ready.
Feider gained recognition for his nearly all-glass, geodesic pinecone treehouse suspended 60 feet in the air, as well as his work with celebrities like Doors guitarist Robby Kreiger. In 2004 he founded O2 Treehouse in Oakland, California continuing to experiment with the geodesic shape because it encompasses the largest amount of volume for the least amount of materials, its shape allows for plenty of points of suspension, and it works with nature's language.
Advertisement
For a couple in Woodside, California, Feider built one of his Equilibrium structures beginning with a 50-foot-long suspension bridge connecting a lofted bedroom (with composting toilet) to a suspended outdoor kitchen. The family began using it to sleep 30-feet-up and for sky-high barbecues, but eventually they began to use it as a remote workspace and place to really get away/Kirsten Dirksen./Kirsten Dirksen