Perhaps the most remarkable achievement of the Blohm & Voss Company was its celebrated BV 238 flying transport floatplane, which stood out among war machinery of its time due to its sheer size. The BV 238 was the largest aircraft ever built by the Axis powers during World War II and also the heaviest up to 1944.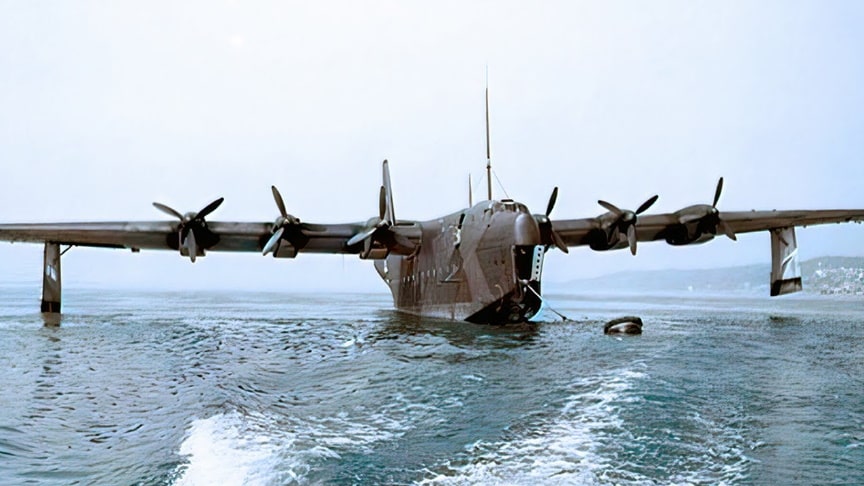 source/image: Dark Skies
The development of the aircraft began in the middle of the war, but it was only completed in its last days. The enormous ship was more than capable of crossing the Atlantic and even reaching South America.Concerned that Adolf Hitler or other high-ranking Nazi officials could flee the country before being captured, the Allied leaders set out to destroy any last resort that could help the enemy.
The BV 238 was an extremely large flying boat of conventional aerodynamic design, but bearing the usual B&V structural hallmarks of all-metal construction with a tubular steel wing main spar which also acted as the armoured main fuel tank. Of the era, only the earlier Tupolev ANT-20, the Martin XPB2M-1 and the later Hughes H-4 had a bigger wing span.
Advertisement
Power was provided by six 1,287 kW (1,750 hp) Daimler-Benz DB 603 liquid-cooled inverted V12 piston engines, arranged in nacelles along the leading edge of the centre section.The hull had an unusually long and slim planing bottom, of essentially two-step design but with a row of smaller auxiliary steps behind the main one. A large nose door opened onto its cavernous interior, with the main crew cabin immediately above and behind it.