Carthago has produced motorhomes since the late 70s and thus has extensive experience in the industry. CARTHAGO MALIBU VAN 640 LE is a luxurious camper van with longitudinal beds, powerful 150 hp Euro 6 engine and automatic transmission combined with cruise control makes this motorhome ready for a comfortable trip.The car has air suspension at the back so it will be incredibly comfortable to drive!With a solar panel on the roof, you are ready for fricamping.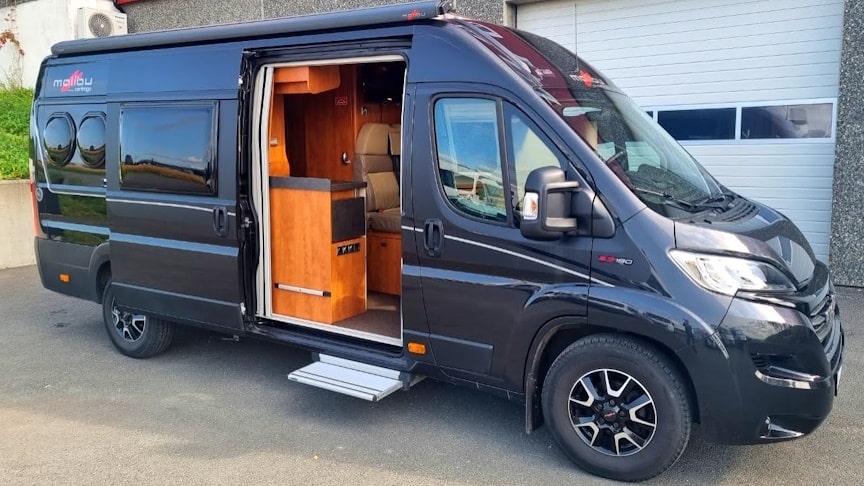 source.image: Bobilagenten AS
Batteries charge here when there is daylight. In addition, there are 2 living room batteries and a 1800w inverter with pure sine wave.The exterior has an exclusive black colour, Awning, Mosquito door, Electric step, Fog lights, Front in the car's colour, Solar panel, TV antenna and double doors at the back with windows. Central locking with key that can unlock and lock all the doors. Note that both doors at the back have windows with blinds and mosquito nets.
Recessed windows, electrically retractable mirrors, organ with front in the color of the car, fog lights and 16″ aluminum rims are also in place.The motorhome has a great interior with smart solutions. LED lighting around the car.Reversible chairs with armrests form a pleasant seating area, and the table can be tilted out with a wave of the hand for an even larger tabletop if desired.
Advertisement
The table in the seating area can also be taken out and attached if desired, eliminating the need for a separate coffee table outside.Also note that it has a practical leather interior.In the kitchen, there are many smart storage options with cupboards and drawers that can be pulled out. Note the high-placed fridge freezer. Hot/cold water and cooking torches. Relief tables that can easily be pulled out are also in place.In the driver's environment you will find automatic transmission, digital climate control, airbags on both sides, cruise control, on-board computer and a vigorous Euro 6 2.3L Turbodiesel engine of 150 hp makes the motorhome ready for travel.