Air conditioning, often abbreviated as A/C or AC, is the process of removing heat and controlling the humidity of air in an enclosed space to achieve a more comfortable interior environment by use of powered 'air conditioners' or a variety of other methods including passive cooling and ventilative cooling.In a split-system central air conditioner, an outdoor metal cabinet contains the condenser and compressor, and an indoor cabinet contains the evaporator.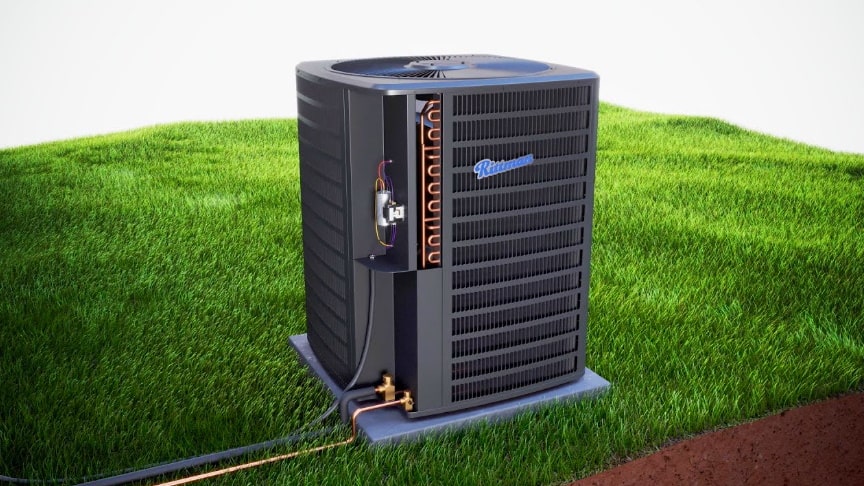 source/image(PrtSc): Matt Rittman
In the refrigeration cycle, a pump transfers heat from a lower temperature source into a higher temperature heat sink. Heat will naturally flow in the opposite direction. This is the most common type of air conditioning. A refrigerated air conditioning system works in much the same way pumping heat out of the room in which it stands.A 3D animation showing how central air conditioning works in a split-system setup. Cinema 4D was used to create each individual part, as well as animating everything. Corona renderer was used for all 3D rendering.
Air conditioners, which typically use vapor-compression refrigeration, range in size from small units used within vehicles or single rooms to massive units that can cool large buildings. Air source heat pumps, which can be used for heating as well as cooling are becoming increasingly common in cooler climates.
Advertisement
In a split system, the compressor condenses and circulates the refrigerant through the outdoor unit, changing it from a gas to a liquid. The liquid is then forced through the indoor evaporator coil or cooling compartment. The indoor unit's fan circulates the inside air to pass across the evaporator fins./wikipedia