The successful line of Sikorsky Aircraft's long-running CH-53 series of helicopters found renewed emphasis in the 21st century with its latest iteration: the unmatched King Stallion.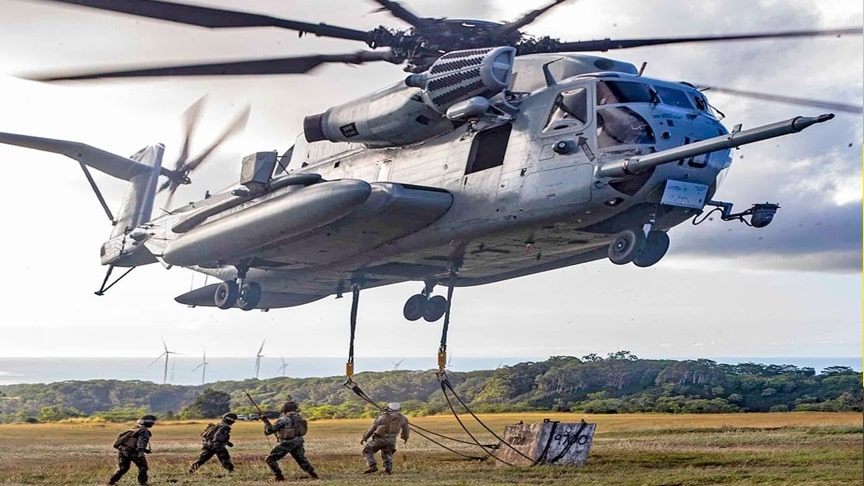 source/image(PrtSc): Dark Skies
As an evolution of its predecessors, the CH-53K King Stallion resulted from 50 years of development and operational excellence. Able to carry up to 36,000 pounds on its single center point cargo hook, the robust helicopter entered service with the US Marine Corps as the service's main heavy-lift helicopter just in time.
In the fall of 2021, a MH-60S got stuck in the White Mountains of California. And there was only one aircraft powerful enough to retrieve it. As Lieutenant Colonel Luke Frank, leader of the Marine Operational Test and Evaluation Squadron One, stated: (QUOTE) "This is exactly what the K is made to do. Heavy lift is a unique and invaluable mission for the Marine Corps. Horsepower is our weapon system and the CH-53K is armed to the teeth."
Advertisement
The CH-53K is powered by the General Electric GE38-1B engine,which was selected over the Pratt and Whitney Canada PW150 and a variant of the Rolls-Royce AE 1107C-Liberty used on the V-22 Osprey.Each of the three T408 engines is rated at 7,500 shp,and gives the CH-53K the ability to fly 20 knots faster than its CH-53E predecessor./source