Step inside the world of Kyle and Stephanie, where every inch of their Mercedes Sprinter van conversion is designed for comfort, functionality, and the shared joy of adventure. With an investment of about $150,000, they've turned their van into a sublime retreat that encapsulates their love for each other and the great outdoors.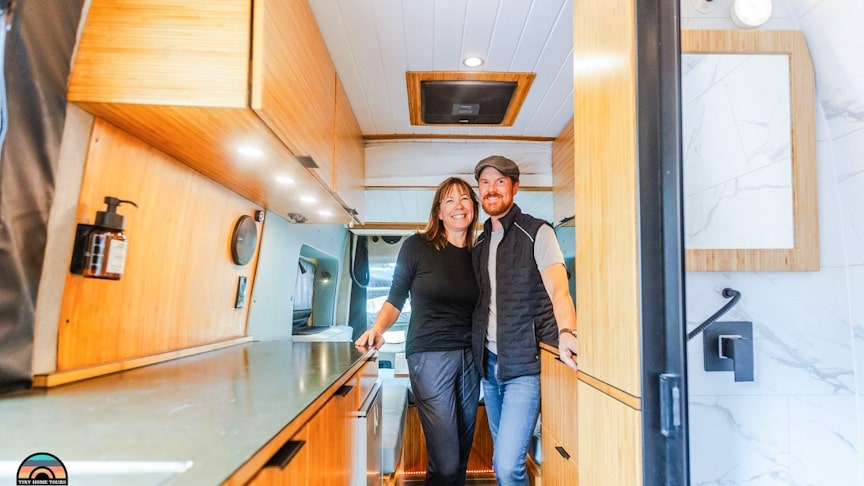 source.image: Tiny Home Tours
In the heart of their van lies the dinette area, a space crafted with the Lagoon Mount table for versatility and hosting friends. The clever design allows seating to transition into a bed seamlessly, highlighting their commitment to maximizing every space.Stephanie's love for cooking is supported by a thoughtfully designed kitchen featuring bamboo cabinets, a spacious sink, and cutting-edge appliances like an induction stove and an air fryer, all accented with Richlite countertops.
Their bathroom is a marvel of efficiency, with a composting toilet and a shower designed for dual use – perfect for cleaning up after a day out or drying wet ski gear in the winter months.With 800 watts of solar and a robust Victron energy system, they've achieved an impressive level of self-sufficiency. This setup allows them to power their van's needs, including a 12-volt air conditioner, ensuring comfort for them and their pets.
Advertisement
Their van life journey began with a desire to escape city life and debt, leading them to renovate homes and eventually design their dream van. Kyle's background in sculpture shines through in every custom woodwork detail.Above all, their van reflects the life they've chosen together, from enjoying Stephanie's culinary creations to pursuing their shared passions like mountain biking and skiing.