This ultra modern tiny house on wheels is truly something to behold. With it's jet black exterior, super clever design and incredibly high quality of craftsmanship, this tiny home is sure to blow your mind. Today, we revisit their tiny house to see what's changed and how the couple are finding life in their stunning home. Since we last visited, there have been some exciting additions including a massive renovation of their outdoor living area and the addition of a huge new solar system that even charges an electric vehicle!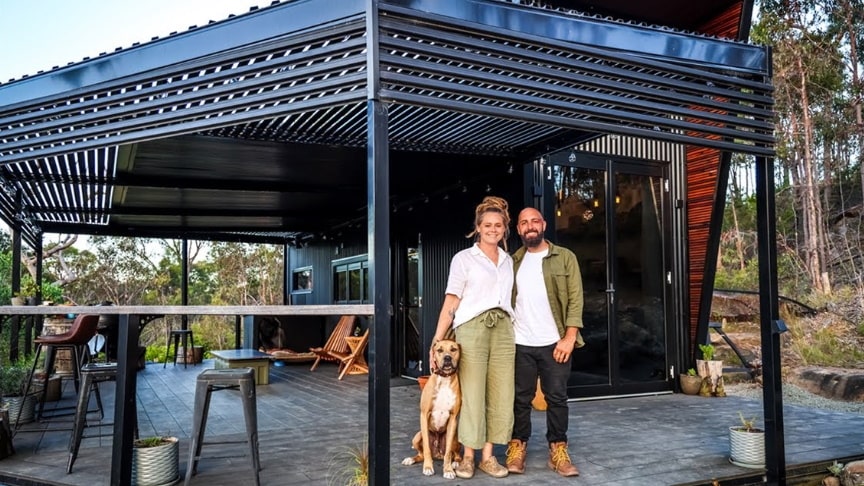 source/image: Living Big In A Tiny House
Inside, the home is every bit as practical as it is beautiful. Constructed by couple Matt and Lisa, this tiny house has absolutely everything the young couple needs and many extras on top! As far as tiny home's go, this one is especially spacious and packed full of clever smalls space design ideas.
The extra height in the home really adds a tremendous sense of space and liability though.The tiny home has everything that you would expect, albeit all finished and decorated to a tremendously high standard. While Matt and Lisa did the vast majority of the construction on this home, they admit to calling in a good number of favours amongst their friends in the trades and more than a few boxes of beer changed hands in the process.
Advertisement
The lounge is large and wonderfully artistic with a spectacular light feature above, with collection of hanging down-lights and plants growing amongst them. There's a good sized television and a comfortable seating area.Down the hall, a large kitchen contains all the modern ammenities all with plenty of bench space for working. Items such as the fridge and the oven have been fitted under the stairs to make some extra space.