In this video from the 2023 Detroit Autorama Custom Car Show held in Detroit MI, I have the 1941 Ford Pickup built buy Samson Design "41floyd". This 41 Ford custom pickup truck is covered in a color called "Magic Red" a custom mix Axalta color that looked good under the lights of Cobo Hall.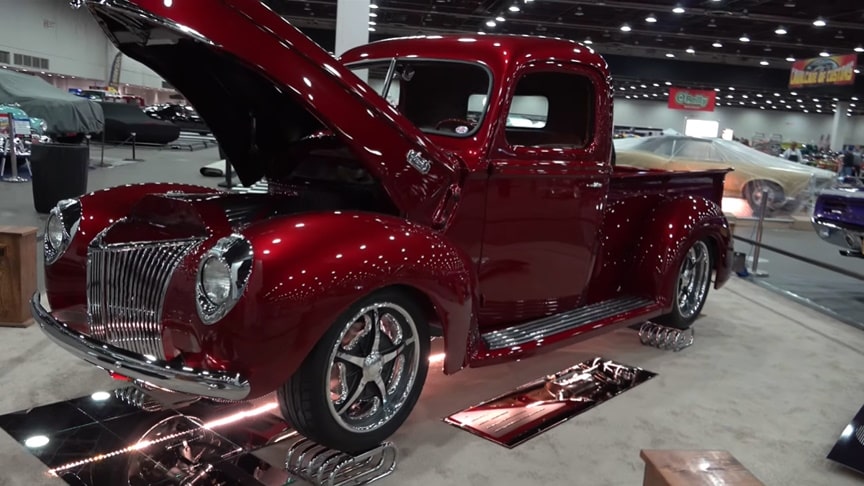 I bet it looks great out in the sun.A beautiful shade of red with a lot of metallic in it! The custom two tone brown leather interior was designed by Samson Design and is very fitting for the this style of custom truck.A hint of modern.Yet still looks like something that could have come from Ford back in the day.
Wheels are always a person choice and no one set will please everyone.I really like the ones that Sampson Design chose to run on this 1941 Ford Custom Pickup Truck from the 2023 Detroit Autorama. Under the hood is a old school 350/350.Not my favorite feature about this truck.But it is nicely installed and I am sure reliable.
Advertisement
The suspension and Brakes have all been upgraded to the latest technology and finished to a very nice level.You can see that this Ford truck was taken to a couple a steps above a parking lot cruiser.Yet at some point it will get some miles put on it. The 1941 Ford Pickup Custom Truck "41floyd" built by Sampson Design from the 2023 Detroit Autorama Custom Car Show held in Detroit MI