In this video from the ScottieDTV You Can't Cancel Cool Road Tour 2020 I stop by the Reinhart Collection in Indianapolis In to check all the cool that is there.This 1951 Mercury is one of Mark's cars so You know it's going to be a little crazy.And very cool.This 51 Merc is covered in mile deep black paint and trimmed with a flat black vinyl wrap with a pattern on it.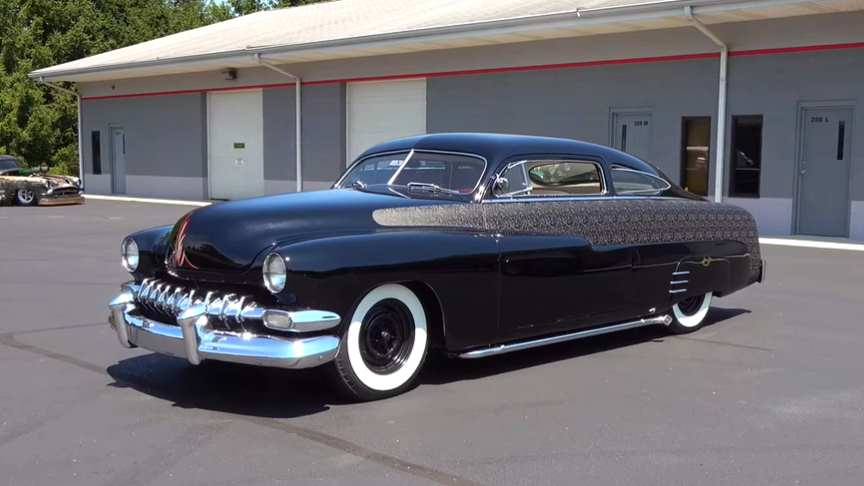 source/image: ScottieDTV
A very cool and different look.Works well!.The interior is all custom leather…White with red piping trimmed with black.The dash is red and black with some very nice pinstripes.Speaking of pinstripes this 1951 Mercury is covered with some very nice work and being a 1951 Mercury laid on the ground.
That works really well with the rest of the build.Wheels are always a personal choice and no one set will please everyone but I'm good with the 15 inch steelies and wide whites this 51 Mercury runs.Up under the hood there is a 351 Windsor, some more pinstriping and a clean install.
Advertisement
The suspension has all been upgraded to all modern stuff so this 1951 Mercury from the Reinhart Collection is set up to drive like a new car.Mark wouldn't have it any other way,everything He has gets driven.One very cool 1951 Mercury from the Reinhart Collection in Indianapolis In.I'm sure You will enjoy it as much as I did…Check it out!!!//ScottieDTV