In this video from the 2022 SEMA Show held in Las Vegas NV, I have the 1963 Chevrolet Corvette "XP-63" the Custom Street Machine that Eddies Rod Shop debuted. The widebody 1963 Corvette is covered in a custom mix satin gold color that can have a green hue to it when you catch on the right angle.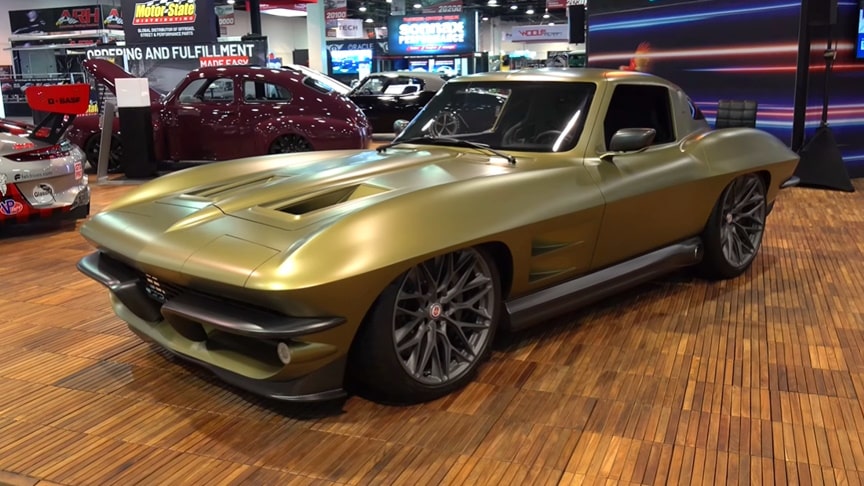 The brown leather interior is definitely custom, Yet retains some of the iconic styling ques from 1963, giving it the prefect mix of modern and classic for this build. Wheels are always a personal choice and no one set will please everyone.I dig the ones that Eddies Rod Shop chose to run on this 1963 Chevrolet Corvette from the 2022 SEMA Show.Under the custom hood is a cleanly installed custom Supercharged LS3 making over 900hp.
They also chose to run side pipes on this 63 Vette.That's always cool!! The suspension and brakes have all been upgraded to the best available and finished to the same high level as the rest of the car. This 1963 Chevrolet Corvette "XP-63" was built to blow minds.
Advertisement
The detail and expense for this car are both at a crazy level.Yet it still had to be able to perform.I believe that Eddies Rod Shop hit both of those marks.I'm a fan and I am sure You will be to.The 1963 Chevrolet Corvette "XP-63" Custom Street Machine built by Eddies Rod Shop from the 2022 SEMA Show.