In this video I found a very cool 1963 Ford Falcon from the 2020 Joker's Wild Car Show that is part of the Atlantic City Auction & Car Show held at the Showboat Hotel Atlantic City New Jersey.Done in the gasser style of drag car from back in the 60's this 1963 Ford Falcon is done to a very nice level.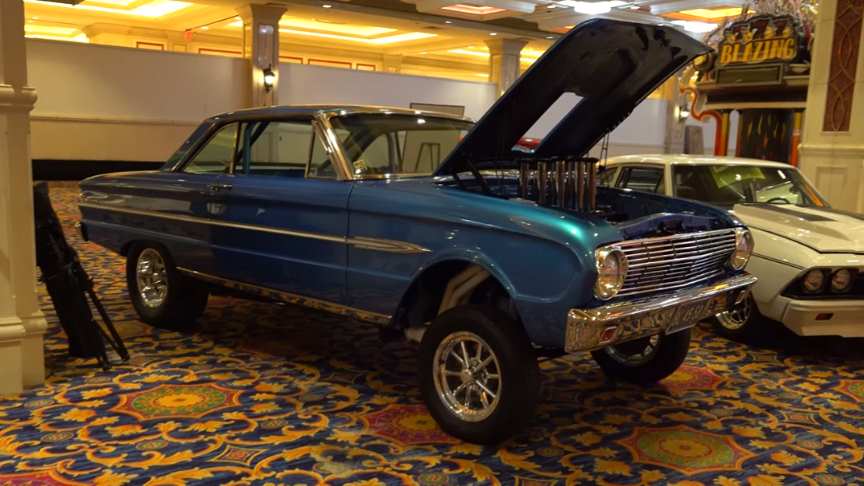 source/image: ScottieDTV
Covered in a medium metallic blue paint that it wears well.It still has most if not all of the factory trim and that has been redone to a very nice level. Suspension is all set up in the traditional gasser style and again finished to a very nice level.The interior has been redone but looks to be a lot like it would have been from Ford back in 1963.Very nice and very fitting for this build.
There is a whole in the hood where the 8 intake stacks from the Ford in a Ford 427 small block V8 come through.Cleaned up and finished very nicely.The Atlantic City Auction & Car Show has been going on for over 47 years.
Advertisement
The Joker's Wild Car Show was one of two new shows that were added this year to make it a even bigger indoor auto event…If you have never been..Check out what Your missing…If You know all about it I'm sure You will want to see this 1963 Ford Falcon Gasser from the 2020 Joker's Wild Car Show from the Showboat Hotel again.via/read more: ScottieDTV