CyberLandr™ has unveiled the cyberlandr — a camper/overlander for the tesla cybertruck. CyberLandr™ for Cybertruck – The Ultimate in Wilderness and Urban Adventure.Now you can take your kitchen, living room, bedroom, bathroom, and office.anywhere and everywhere you go for the ultimate wilderness and urban adventures.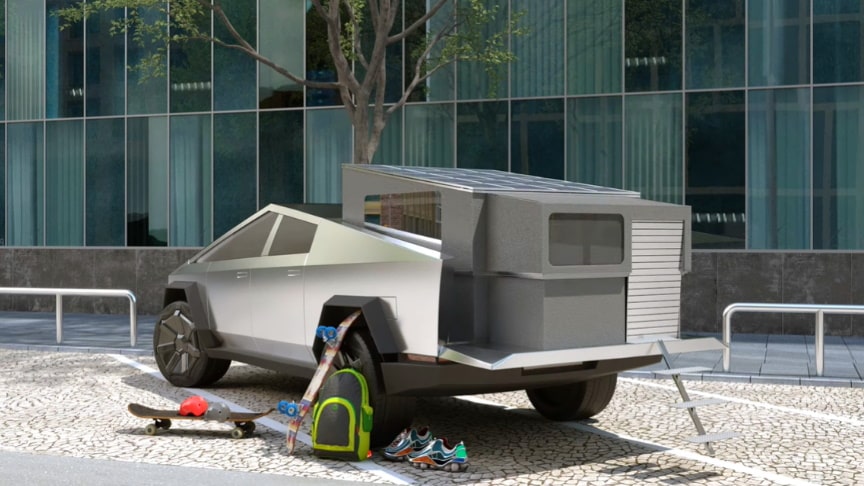 source/image(PrtSc): CyberLandr
CyberLandr is designed to fit entirely into the Cybertruck's bed when traveling, thus preserving the truck's aerodynamics for a minimal impact on range. The best part about the expandable CyberLandr camper is that it completely disappears when stowed away within the Cybertruck's bed.
The built-in kitchen features a tri-level sink with a colander, wash bin, and drying rack; there also is a cutting board and the drawers open and close automatically.Just like the cybertruck, cyberlandr has voice activated automation to control features like lights, its electrochromic dimming windows, and even the faucet.
Advertisement
Users can also use the app to control these features, to deploy and stow cyberlandr, and to view the 360-degree surround surveillance system. Other features of the Cyberlandr are: Seats transform into a surprisingly comfortable, breathable RV queen bed.Electrochromic dimming, dual-pane windows provide the perfect blend of light and privacy.
Bed sits at counter height with room underneath for two children or one adult.Home automation to effortlessly control climate and lighting by voice or app.32" 4k UHD Smart TV/monitor with integrated Netflix, Prime, AppleTV, YouTube, etc.Reclining, free standing seating can be repositioned or moved outside for the sunset./cyberlandr