DC100 is a high-performance electric motorcycle from Davinci Motor.The DC100 features simplified controls to fully enjoy your ride. Thanks to a smart control system that seamlessly integrates multiple components, it delivers instant and adaptable acceleration at every twist of the throttle, combined with responsive and intuitive controls. You will only need your right hand to control both throttle and brakes.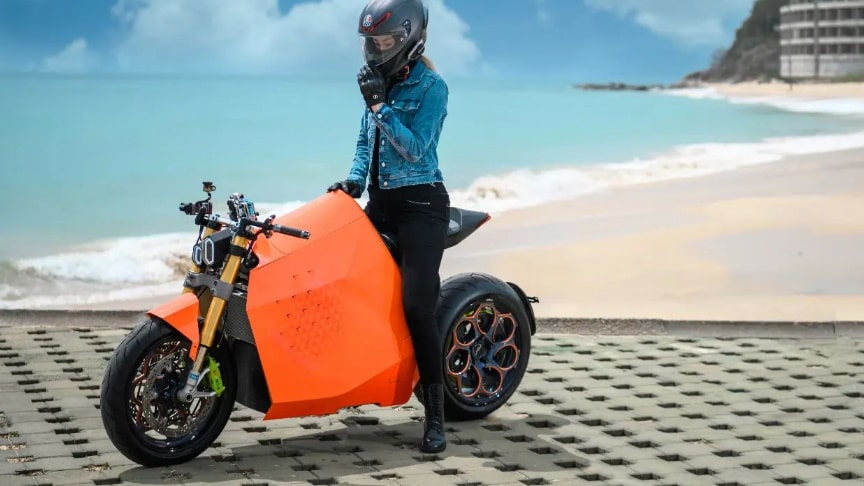 source/image: Davinci Motor
The DC100 has an acceleration of 0-100 km/h in about 3 seconds, can reach a top speed of 200 km/h, and the maximum torque is an astonishing 850Nm with a range of over 400 km.It features a 17.7 kWh battery pack that powers an electric motor producing 134 hpand 627 lb-ft of torque.
The DC100 is a two-wheeled dynamic robot able to understand the surrounding environment and translate the information it gathers into an optimized, smart and high-performance riding experience.The DC100 has more than 1000 chips and over 200 advanced sensors that track accurate information on the environment, vehicle movement status, road conditions, battery and motor temperature, lean angle, and so on.
Advertisement
While riding, the DC100 will combine this data to precisely control its power system and so ensure an optimal performance under all conditions. This will make your riding experience easier and safer, allowing you to fully enjoy the ride.When it's on Drive mode (D) and the brake lever is released, the DC100 slowly moves forward at a max speed of 7 km/h (4 mph) to enable a smooth and stable start.
When put it in Reverse (R), it slowly moves backward applying high torque at a max speed of 5 km/h (3 mph) allowing the rider to safely reverse, even on a slope.When you are ready to take off and Drive Mode (D) is selected, the DC100 instantly activates the Ride Assist. This means it's able to control and slowly release the speed to a max of 7km/h (4 mph) when moving forward, in order to enable a smooth and safe start.