The de Havilland DH 112 Venom is a British post-war single-engined jet aircraft developed and manufactured by the de Havilland Aircraft Company. The de Havilland Venom was a jet-propelled combat aircraft, featuring a distinctive twin-boom tail and composite wood/metal structure. Originally developed as a ground-attack fighter, it served as an interceptor as well.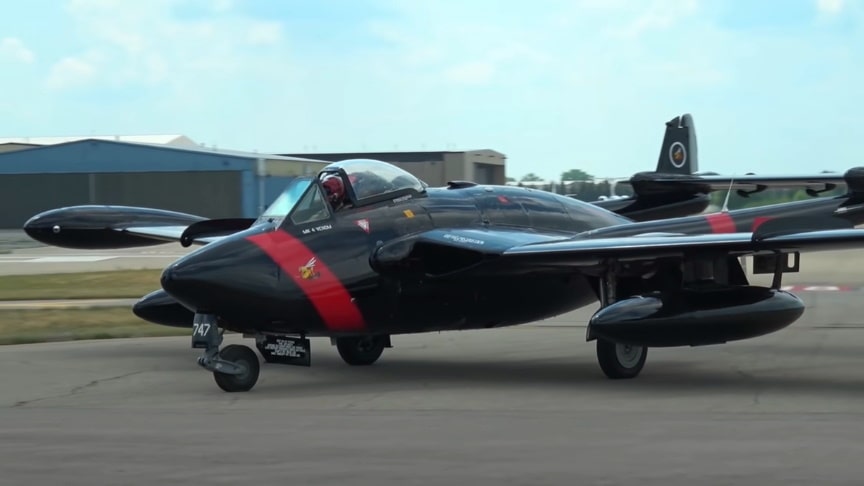 image: AirshowStuffVideos
It possessed a favourable rate of climb and other positive characteristics that lent itself well to combat operations, and represented a significant advance over the preceding Vampire.The World Heritage Air Museum's de Havilland DH-112 Venom, the only one flying in the US, starts with a bang using the cartridge starter system!
The aircraft departed for a short test flight before returning to the WHAM hangar at Oakland County International Airport in Michigan. This aircraft will join WHAM's Vampire and Gloster Meteor at EAA AirVenture 2018 in Oshkosh.This aircraft and pilot Marty Tibbitts were lost in a fatal crash in Sheboygan, WI one week after this was filmed. RIP Marty.
Advertisement
The Venom FB 1 was powered by a single 4,850 lbf (21.6 kN) thrust Ghost 48 Mk.1 turbojet engine; later marks were equipped with increasingly powerful models.The engine was ignited using explosive cartridges, known as Coffman engine starters; at the time, many operators were not previously familiar with such means of start up.