In the event of an accident, the airbag deploys utilizing a 100% mechanical trigger. This results in maximum reliability with no maintenance. Helite uses electronic systems in other industries, but for motorcycle riding use we know that the mechanical trigger is the most reliable and easy to use. Upon activation, a spring loaded piston pierces the C02 cartridge and rapidly inflates the airbag around the neck and body.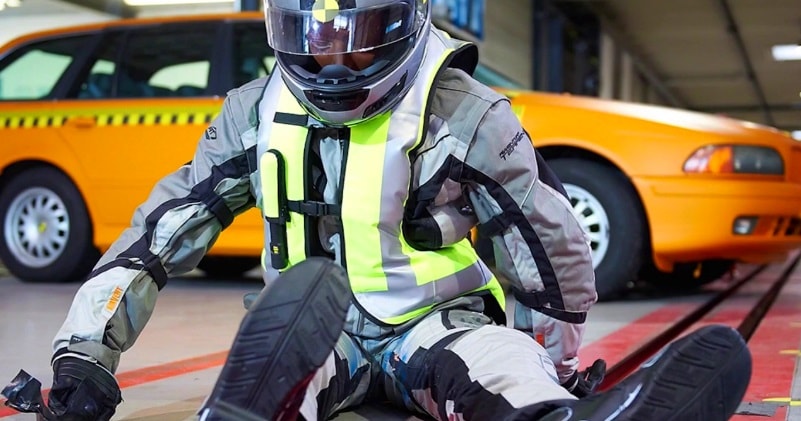 source/image(PrtSc): Helite Moto
Demonstrating Helite airbag protection for a rider in Medford Oregon. A Helite airbag vest provides rigid back protection and neck immobilization. Along with chest and rib protection and hip and pelvic protection. The airbag is made to absorb large amounts of force that would normally be transferred to your body.
The air chambers are designed to stabilize the neck, spine and torso and reduce the force of impacts to vital organs.The Helite system has been tested by independent labs, universities, and certification authorities. The system has consistently emerged as the best performing personal airbag available. With deployment times under 100ms, Helite protects quicker than any other mechanically triggered airbag.
Advertisement
Simply put: Helite makes outstanding airbag vests and jackets for motorcyclists everywhere. With standard riding gear in mind – helmet, gloves, jacket – our patented airbag systems are something that every rider needs to be wearing whenever they hop on their bikes and head out on the road.
We are all aware of the risks people face when out there on the road and it's Helite's mission to make riders safer while doing so. Riders everywhere need to be wearing airbag protection.