I have always been intrigued by martial arts and after watching Iron Fist on Netflix I had the idea of making my own practice katana. I had a lot of scrap hardwood flooring from our home renovations, so I found some really beautiful pieces and got to work.Most of the sword is made from left over cumaru teak flooring that I recently used in our house. It has a really beautiful grain pattern and some elegant figuring, plus it's extremely dense and hard.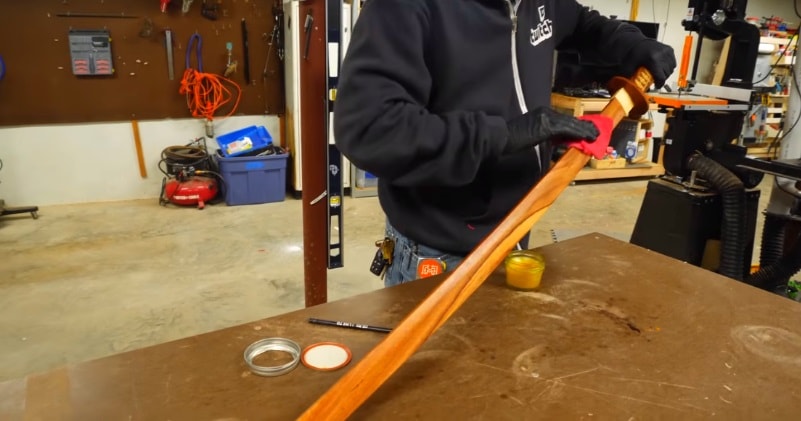 source/image(PrtSc): I Like To Make Stuff
First, I drew out the rough shape of the blade based on some online dimensions. I cut out this shape on the bandsaw making sure to leave a tang on the bottom that would fit inside the hilt. I rough sanded the blade to give the sword some definition and moved on to the tsuba, or hand guard.read more: I Like To Make Stuff
I found another smaller piece of teak flooring for the tsuba. I used some calipers to measure the tang dimensions and transferred those lines to the blank tsuba. I drilled out this space and had to chisel and file the pocket very carefully so that the blade tang would sit snuggly into it. After I had a good fit, I cut the tsuba into an oval using a paper template.
Advertisement
After researching how katana hilts are wrapped in cotton or silk strips, I decided to recreate that look with an inlayed contrasting wood…The tsuba fit onto the tang and the tang fit into the hilt. I added a kashira or pommel to the end of the hilt and it was all done. I finished the katana with some linseed oil and beeswax polish and it looks gorgeous! I am so happy to have my own sword and I feel like a true samurai!//I Like To Make Stuff