If you have a creek, river or branch on your property then this is an excellent addition to your preps. This water pump is powered by a model gasoline engine, so if the grid goes down you will still be able to pump water from your river.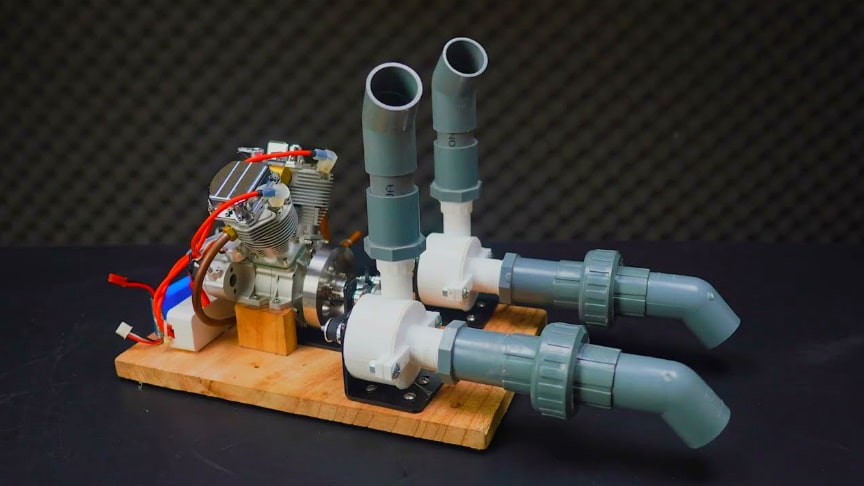 source/image: NDA Hack
The pump is a simple design and not made, or claimed, to be used in any heavy duty operations, or relatively high pressures. In this video NDA Hack builds a powerful water pump usin some pvc pipes and a CISON FG-VT9 9cc V-twin V2 Engine Four-stroke engine.
The CISON FG-VT9 9cc V-twin V2 Engine Four-stroke has a highly simulated classic look and elegant silver appearance recreates how a real motorcycle engine looks. Upgrade based on the original design to improve performance and reliability represents the most significant feature of motorcycles.
Advertisement
The crankshaft runs smoothly with large-area heat sink featuring ideal air-cooling effect, ensuring prolonged yet stable performance. The sensitive single carburetor throttle response and the normal speed range of 2000-8000rpm are our highlights.The engine comes with a spark plug and CDI igniter, does not include the fixed storage base of the engine and the electric starting device, please contact us if you have any requirements.
Engine specifications:
Displacement: 9(4.5*2)cc
Bore: 16.67mm
Stroke: 21mm; Angle: 45°
Speed: 2000-8000rpm
Power: 0.8ps
Starting power: 2S-3S lithium battery.
Cooling method: air cooling