EAV are the leading provider of last-mile transport solutions, that are specifically designed for our evolving urban environments – making them zero-emission, low cost, reliable and future-proofed.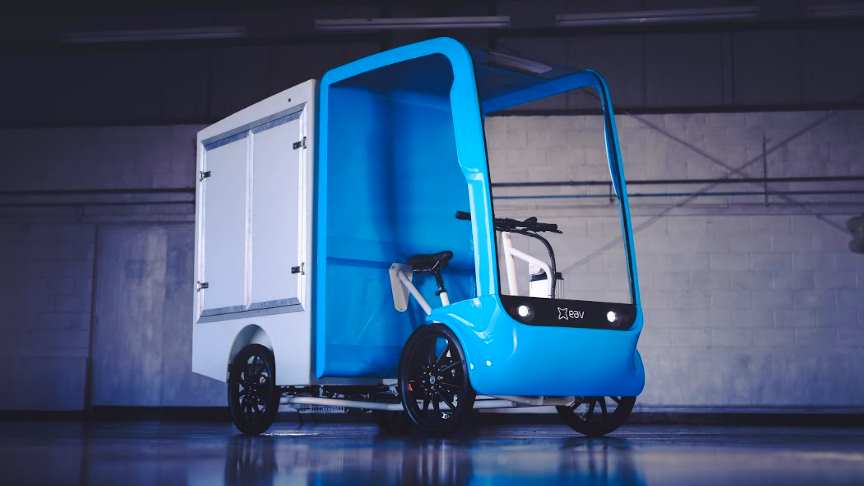 EAV is defined by efficiency, with optimum delivery journeys via access to cycle infrastructure, car free zones and via pedestrian zones. We can specify a range of up to 60 miles per battery to maximise your capacity to deliver.
The very fabric of EAV vehicles are sustainable by design: made from natural fibre composite materials, and by recycled plastics and metals.The EAV 2Cubed is our best selling eCargo vehicle. Using our highly stable platform chassis with Cloudframe technology, this low maintenance, ultra-durable, sustainably produced last mile delivery vehicle is the ideal partner to your fleet mix today!
Advertisement
​
Bridging the gap between the traditional cargo bike and the van, EAV culminates all the comfort and user appeal needed along with the increased efficiencies, true zero emission credentials, health and well-being positives and of course, future proofing your fleet for our accelerated city centre mobility plans.

​
Remotely opening cargo doors, adjustable height shelving, high level automotive spec rear lights including side, brake and indicators, we even include a spare wheel!
EAV 2Cubed
Fixed cargo box specs:
 Volume – 2.0m³
 Depth – 1.3m
 Width – 1.0m
 Height – 1.5m
Cargo box options:
Single door
Double barn door
Roller shutter