If you've ever wondered how that pesky circuit breaker Works inside when your lights turn off, then this is the episode you need to watch.A circuit breaker is an electrical safety device designed to protect an electrical circuit from damage caused by an overcurrent or short circuit.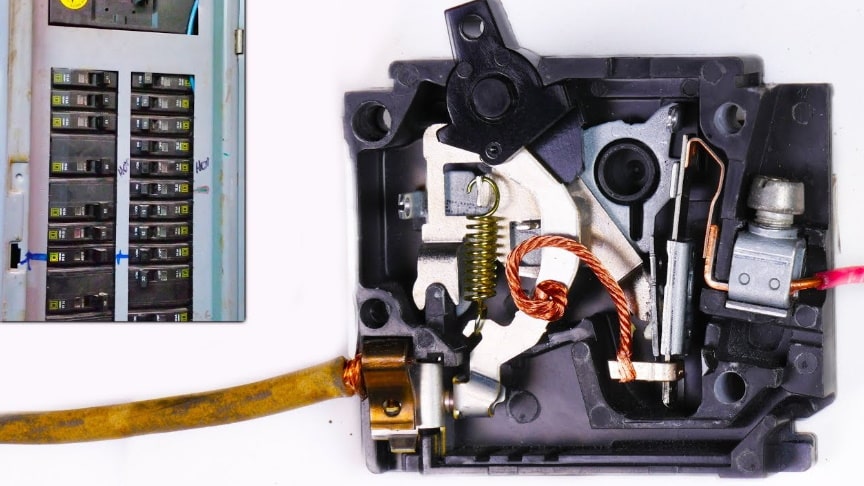 source/image: Warped Perception
Its basic function is to interrupt current flow to protect equipment and to prevent the risk of fire. Unlike a fuse, which operates once and then must be replaced, a circuit breaker can be reset (either manually or automatically) to resume normal operation.
I open up a household circuit breaker and replicate a couple very common household fault scenarios, I film it with the high-speed cameras to reveal exactly what's going on inside that circuit breaker.The circuit breaker must first detect a fault condition. In small mains and low voltage circuit breakers, this is usually done within the device itself. Typically, the heating or magnetic effects of electric current are employed.
Advertisement
Once a fault is detected, the circuit breaker contacts must open to interrupt the circuit; this is commonly done using mechanically stored energy contained within the breaker, such as a spring or compressed air to separate the contacts. The circuit breaker contacts must carry the load current without excessive heating, and must also withstand the heat of the arc produced when interrupting (opening) the circuit. Contacts are made of copper or copper alloys, silver alloys and other highly conductive materials.Disclaimer: Dont try this at home, this experiment in this video is done by a professional.