The South American nation of Argentina may not be a country that instantly comes to mind when one thinks of aviation and cutting-edge aircraft design.One of the most interesting examples of Argentinian efforts at aircraft ingenuity was the FMA IA 36 Cóndor. the Cóndor looks like it has a shell covering the back part of its fuselage. The FMA IA 36 Cóndor was to have been a commercial passenger jetliner, destined to be used for mid-range, intra-continental flights by the likes of Argentina's national airline, Aerolineas Argentinas.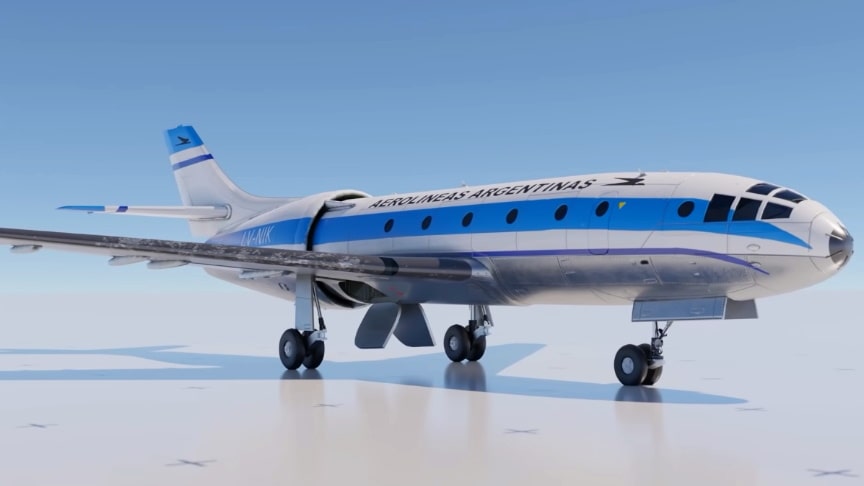 source/image(PrtSc): Found And Explained
Its most striking feature was its multi-engine configuration. The Cóndor would house an annular inlet into which five engines or turbines would be fed. The engines, which were to be Rolls Royce "Nene II" centrifugal-flow turbojets, would be placed in a wraparound conformation that would shroud the back-end of the fuselage. The visual effect was a type of outer shell that encased the back section of the plane. It literally did look like the plane was shedding a part of itself!Video by Found And Explained:
The aircraft had a wingspan of 34 metres or 111.5 feet, with steeply-angled arrow wings. This wing design was thought to enhance performance and economy whilst in flight at high speeds. The plane would have an estimated range of 5,000 kilometres or 3,106 miles, making it perfect for flights between the Argentinian capital, Buenos Aires, and other regional destinations such as Lima, Peru, and São Paulo, Brazil.
Advertisement
Interior-wise, the plane would have single-aisle configuration that would only be able to accommodate 32 to 40 passengers. It was considered ideal for flying intra-continental, regional routes at that time. By 1953, a 1:34 scale wind tunnel model of the FMA IA 36 Cóndor was built, as well as a full-scale fuselage mock-up made of wood.However, it's fair to say that the FMA IA 36 Cóndor was not Tank's most shining accomplishment. There are sound reasons to say that…The Many Problems With El Cóndor.via.read more: Found And Explained