Ramutis "Ray" Narkevicius kept his day job with FedEx but cultivated his dream job by gardening his small Los Angeles backyard to a point of passion. His high yield system produces fruits, veggies, eggs, & fish thanks to composting. He proved at a nearby brewery rooftop it can be scaled on a tight budget.It all began in 1965 when he wanted fruits and vegetables that tasted better than those from the supermarket and he wanted them to grow fast and abundant.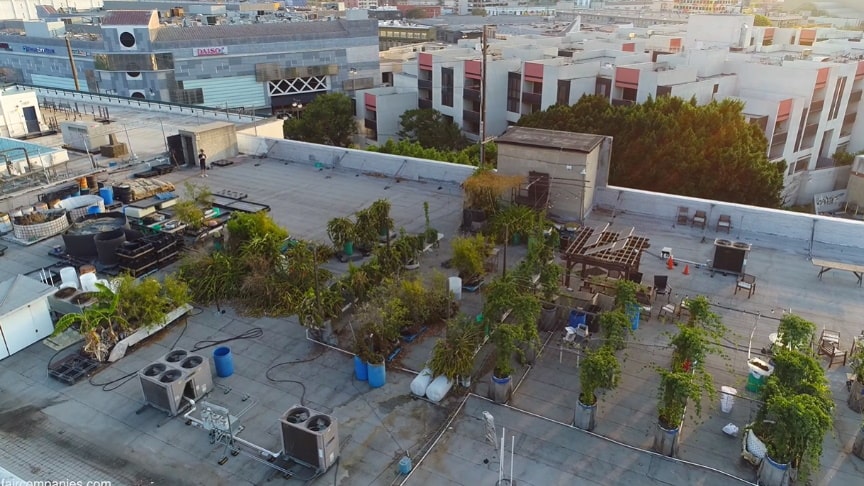 source/image(PrtSc): Kirsten Dirksen
He began experimenting with making a superfood compost mix, collecting restaurant waste (later from juice bars) that he brought home to feed his ducks.Within a few years, he was growing pounds of lettuce, strawberries, avocados, persimmons, kiwis, oranges, pomelos, grapefruits, nectarines, and his own creative hybrids. He had also cultivated street fruit trees in front of his home and had more than enough eggs to share with the neighborhood.
With plenty of sunlight, he began to focus on reusing the water by growing the plants on rock beds that filtered into recirculating tanks where he even added crawfish to clean the water, especially when the duck bath was added to the cycle.
Advertisement
In 2012, he took his waste-compost-gardening cycle public when he answered an ad from Angel City Brewery offering their spent grain for free. He began to add this to his home mix and when he noticed the brewery's large roof was empty, he offered to start a garden. Nearly a decade later, the rooftop is flourishing with exotics like bananas, pineapples, and passion fruit, and plenty of hops for the Angel City to make a specialty Rooftop-Hop Ale./Kirsten Dirksen