This is the Ferrari Daytona SP3, a $2.5 million dream supercar. Today I'm reviewing this Ferrari Daytona SP3, and I'll show you all the many quirks and features. I'm also going to get behind the wheel of the Ferrari Daytona SP3 and show you what it's like to drive.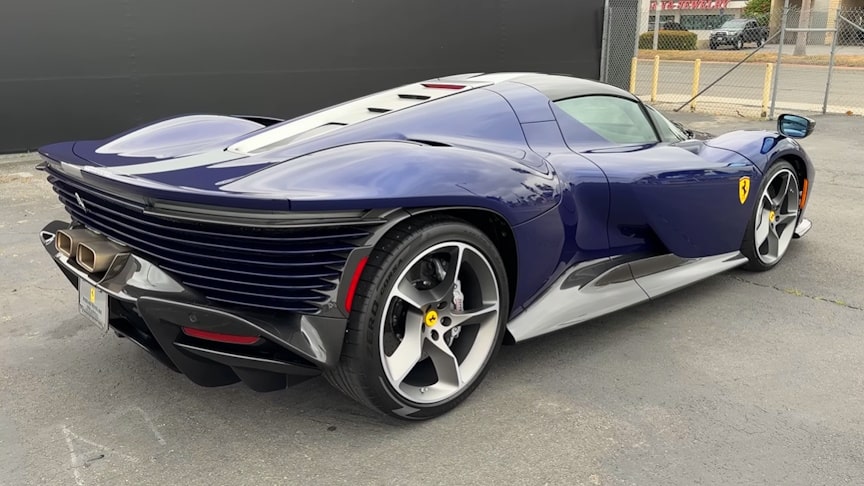 source.image: Doug DeMuro
The Ferrari Daytona SP3 is a limited production mid-engine sports car produced by Italian automobile manufacturer Ferrari, unveiled on 20 November 2021 for the 2023 model year. The design of the Daytona SP3 is based on the Ferrari 330 P4 endurance race car which won at 24 hours of Daytona in 1967. The design is a modernization of the 330 P4, with the body work consisting distinguished low driver's seating position, raised front and rear wheel arches, and the Targa top design.
The SP3 bodywork sits on the LaFerrari chassis, with carbon fiber used for the shell, chassis and certain bodywork elements. The car weighs 1,485 kg dry, giving it a power-to-weight ratio of 566 PS per ton, while the mid-engined layout allows optimized weight distribution between the axles. The engine is a naturally aspirated 6.5 L Ferrari F140 HC V12 revving up to 9500 rpm. It generates 840 PS (618 kW; 829 hp) at 9250 rpm and 697 N⋅m (514 lb⋅ft) of torque at 7250 rpm.
Advertisement
The Daytona SP3 is the first road-going Ferrari to feature a mid-mounted 12-cylinder engine without electric hybrid support systems since the Ferrari Enzo in 2002. The engine is mated to a quicker-shifting version of the 812 Competizione's 7-speed automatic dual-clutch gearbox.The SP3 consists of an all-new minimalistic ergonomic interior with carbon fiber dash board with Alcantara finish on top and LED display system for data & telemetry. Touch controls mean that drivers can control 80% of the Daytona SP3's functions without moving their hands, while a 16″ curved HD screen relays instantly all driving-related information. The steering column also has vertically adjustable to accommodate additional leg room for taller drivers.