This is a CISON FL4-175 Flathead Inline 4 Cylinder Four Stroke 9,000 rpm RC Water-cooled Gasoline Engine 17.5cc.This small silver engine, called FL4-175, is a 17.5cc water-cooled flathead side-valved engine that burns gasoline on CDI ignition. A small amount of oil is added to the crankcase for internal lubrication and caster oil is added to the fuel for upper end lubrication.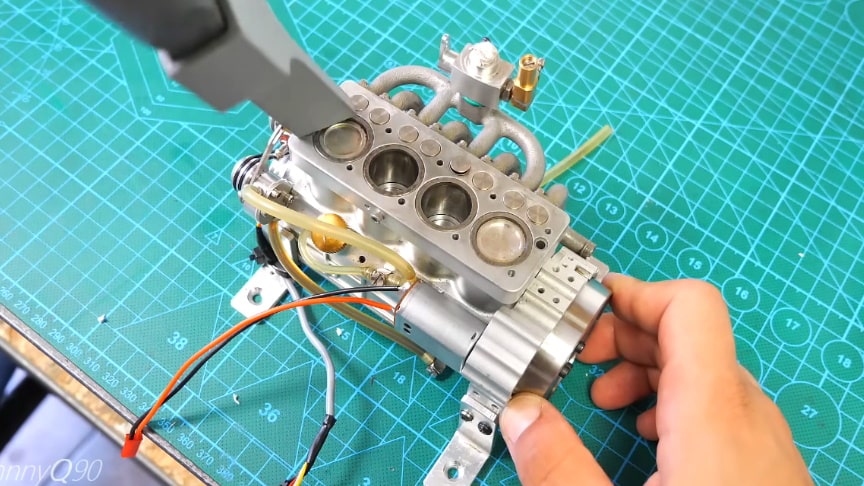 source/image(PrtSc): JohnnyQ90
Aluminum CNC precision machining is used to make the main body of the engine. It features bi-metal piston rings made out of cast iron, high-performance hardened cylinder liner, one-piece crankshaft. Sandblasting oxidation on the engine surface makes a good metal texture and sense of mechanical engineering.
The engine is designed with a side valve structure for lower gravity and lighter weight and offers higher torque output based on the long stroke. Having higher torque allows for greater horsepower at lower rpms.
Advertisement
The engine boasts metal stainless steel integrated printing inlet pipes and exhaust pipes and independent single carburetor for easy calibration, more sensitive throttle response, deep and powerful sound. The external oil pump is utilized for crankshaft supplement and superior independent lubrication when matched with mini oil filters. The engine is cooled with water cycle for longer operation and lifespan./JohnnyQ90