This ia a radio controlled drone with a fake person on it. The Model is a full-scale human in height and general size dimensions he's able to cruise around town airborne using 2x 250Kv electric engines with a takeoff weight of just 4.85Kg.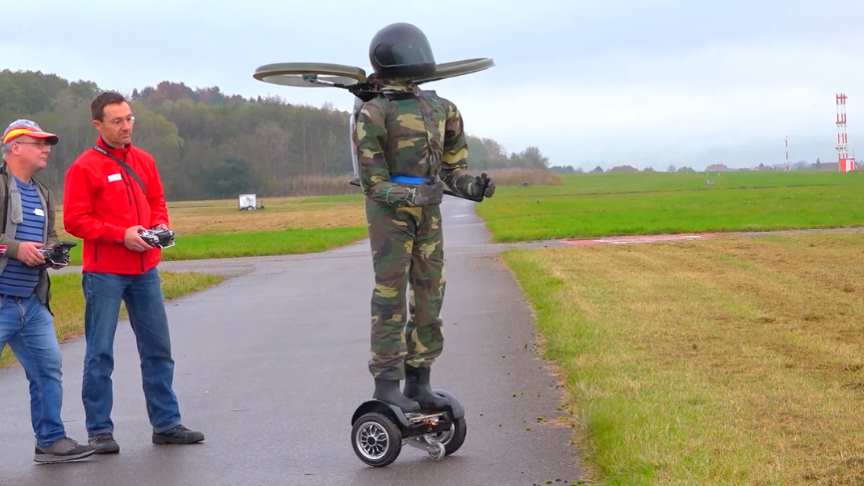 source/image(PrtSc): DIGITAL RC
The RC Flying Man In 1:1 Scale was custom-built and flown by Ralph Kayser,this flying man using bubble wrap and tape inside a paint-ball suit. A lightweight, fiberglass helmet and vinyl boots provide the finishing touches.
Video footage of the 1:1 Scale RC Flying Man hovering, dipping, and landing like a pro comes from Stars des Jahres, Faszination Modellbau Friedrichshafen 2019, Germany.
Advertisement
In this video from RC Media World, Pilot and Builder Graner Berg shows off his custom-built drone that looks like a full-size human wearing a jetpack, equiped with a couple of rotors strapped onto him/her. The Flying Man is powered by two 250kv electric motors, the electric motors are powered by 10s Lipo 3000mAh batteries, the weight of the Flying Man is 4,85kg.
Model: RC Flying Man
Builder & Pilot: Ralph Kayser
Weight: 4,85kg
Scale: 1:1
Engine: 2 x 250kv
Battery: 10s Lipo 3000mAh
Flight control: KK Board
Event: Stars des Jahres, Faszination Modellbau Friedrichshafen 2019