In this video from The SEMA Show 2022 held in Las Vegas NV I have Jet-A-Send a Jet Turbine Electric car that Send Cut Send had at the annual trade show. Jet-A-Send reminds Me of something someone would show up with at a Pinewood Derby race.Except this one is a full size.Running and driving car!Jet-A-Send is a example of the work that Send Cut Send is capable of.They have almost 200 hours in designing it.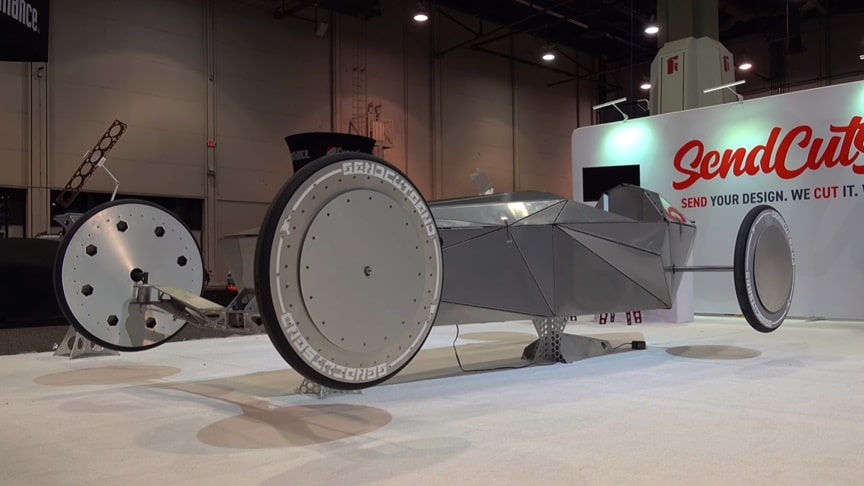 source/image: ScottieDTV
But it took less than 30 hours to assemble and have it running.It's made completely of aluminum.Expect for tires and other miscellaneous parts.And although I didn't actually see it run in person.I have seen videos of it moving under it's own power.There isn't much suspension so I think You would look cool driving it.Just not sure how long You would want to.
Jet-A-Send is powered by a 10hp JetCat Turboshaft Jet Engine provides electrical power to onboard lithium batteries, which in turn power the three-phase, 25kW AC motor. The turbine-electric motor gets 300 miles per gallon fueled with Jet A, or Kerosene.
Advertisement
Jet-A-Send weighs in around 388 pounds without someone driving it. I'm not a Big fan of the EV movement.But when You add a Jet Engine to the equation.I will to take a closer look.Very cool build for sure.The Send Cut Send Jet-A-Send Jet Turbine Electric Car from The SEMA Show 2022.