Peter Michel from Germany build this RC Airbus A-380 with 4x Kerosene Turbine Model Airliner only the 4x turbine are 20'000$ the Time and all the stuff Electric, Retract ect. Enjoy this Master Piece of a Home Build RC Airliner A-380 Scale Singapore Airlines.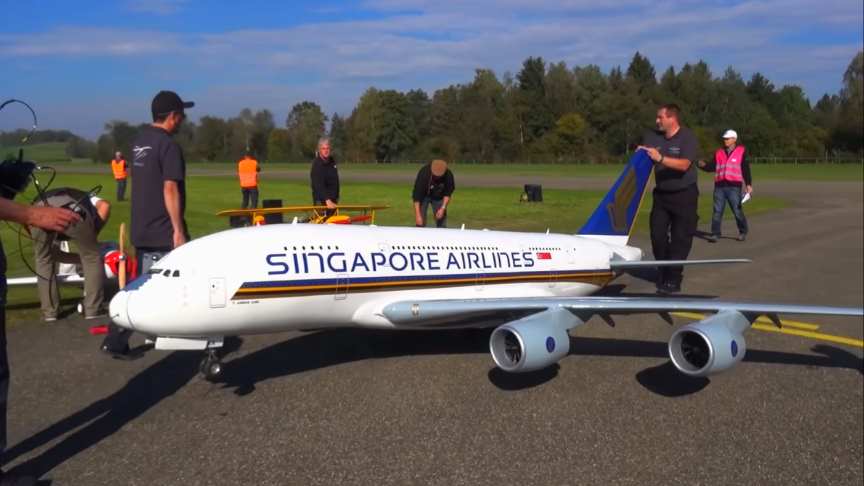 source/image: RCHeliJet
The giant RC Airbus A-380 model, made to look like a Singapore Airlines A380, took eight "months, 5,000 working hours, and a whole lot of Styrofoam and lightweight balsa wood" to take air.
According to RCHeliJet The A-380 model is 4,80m long, has a wingspan of 5,30m, weighs 70,8KG, and has a 10 Liter fuel tank that burns through 0.3 gallons a minute. Powering the plane are four Jetcat P 120 Je 12kp turbine engines.
Advertisement
The video shows the model plane 1:15 scale taking off from the runway, looking a lot of like a real jetliner in the sky as its flying around for a few minutes,and then gracefully landing.
Specifications:
Builder is: Peter Michel
Pilot: Michael Bräuer
Airbus A380-800 Singapore Airlines Modellmassstab 1 : 15
Length/Länge : 4,80 Meter
wing-Span/Spannweite : 5,30 Meter
weight/Startgewicht: 70,8KG
fuel capacity/Tankinhalt : 10 Liter
consumption/Verbrauch : 1,2 Liter pro Minute 🙂
Turbine/Antrieb : 4x JETCAT P 120 Je 12kp Standschub