The Albatros is the most widely used jet trainer in the world, developed in Czechoslovakia by Aero Vodochody. The Aero L-39 Albatros excelled as a jet trainer platform with its powerful turbofan and overall reliability.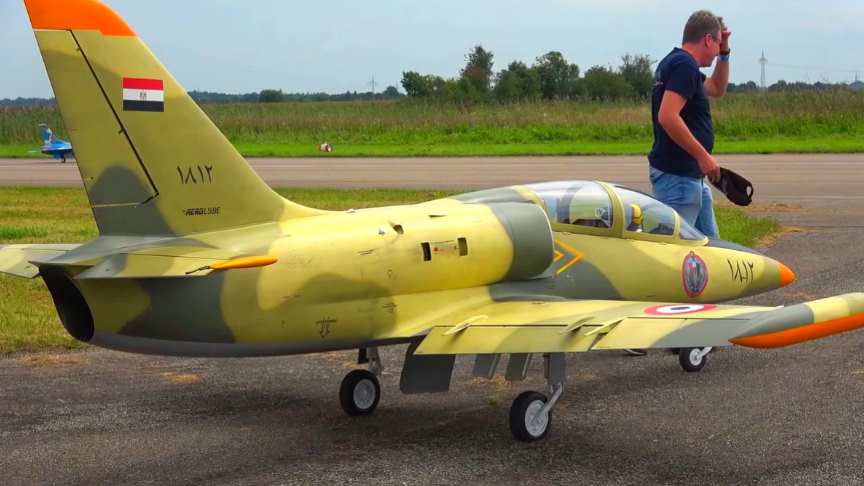 source/image(PrtSc): DIGITAL RC
This model Albatros has a lenght: app. 4.50m and wingspan: 3.50m, it is powered by a JetCat P550 Pro N (136 kW) turbine engine, the weight of this airplane is 80kg. This Rc Albatros L39 from Tomhawk Aviation displays the perfect compromise between a funjet and a professional competition jet.video by DIGITAL RC.
With his fuselage and wings made in sandwich-vacuum technic, he is solid as well as light.Powered by a JetCat turbine engine with 8 pounds of thrust, It replicates the full-size Aero L-39 Albatros airplane.
Advertisement
Optimized for high maneuverability and precision flying, the L-39 truly is a Sport jet wearing Scale jet clothing, the airplane includes grass capable suspension landing gear, a full coverage nose door, scale wingtip lights, and easily removable tip tanks, ordnance, belly gun pod, and wings.
Model: Aero L-39 Albatros from Tomahawk Aviation
Pilot: Markus Zipperer
Länge: 4,50 m
Spannweite: 3,50 m
Gewicht: 80 kg
Turbine: JetCat P550 Pro N (136 kW)
Event: Horizon Airmeet 2019, Genderkingen / Donauwörth