The Lockheed SR-71 "Blackbird" is a long-range, high-altitude, Mach 3+ strategic reconnaissance aircraft that was operated by the United States Air Force. A defensive feature of the aircraft was its high speed and operating altitude.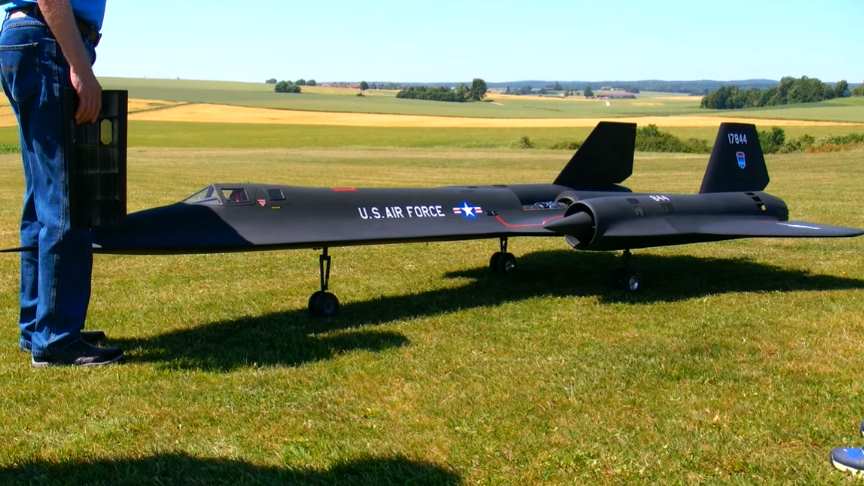 source/image: RC MEDIA WORLD
This impressive example was flown in Germany Oppingen 2019. The pilot and owner of this scale model is Matthias Blaß and the Blackbird is powered by twin 2x Frank Turbine producing more than 32kg of thrust. RC MEDIA WORLD
The model has a wing span of 2.40m and is an impressive 4.10m long and weighs in at 36Kg. Construction is basic balsa and plywood construction with fiberglass cloth and resin finish.
Advertisement
The tank capacity is 10 litres and the model has a flight time of max. 10 mins.To duplicate the visual affect of afterburners in the model, a set of high intensity LEDs are located in the exhaust ducting.The entire model airplane is a one-of-a-kind and was completed in about 2,400 working hours (2 years).
Model: Lockheed SR-71 Blackbird
Engine: 2x Frank Turbine
Thrust: 32Kg
Tank: 10 Liter Cerosene
Wingspan: 2.40m
Length: 4.10m
Take-off weight: 36Kg
Scale: 1/8
Pilot: Matthias Blaß
Builder: Walter Blaß
Event: RC Airliner Meeting in Germany (Oppingen) June 2019