Otto Widlroither brings his giant homemade Concord in the air for the very first time.The inspiration for this RC Concorde comes from the famous Concorde passenger jet, a turbojet powered supersonic airplane that operated until 2003.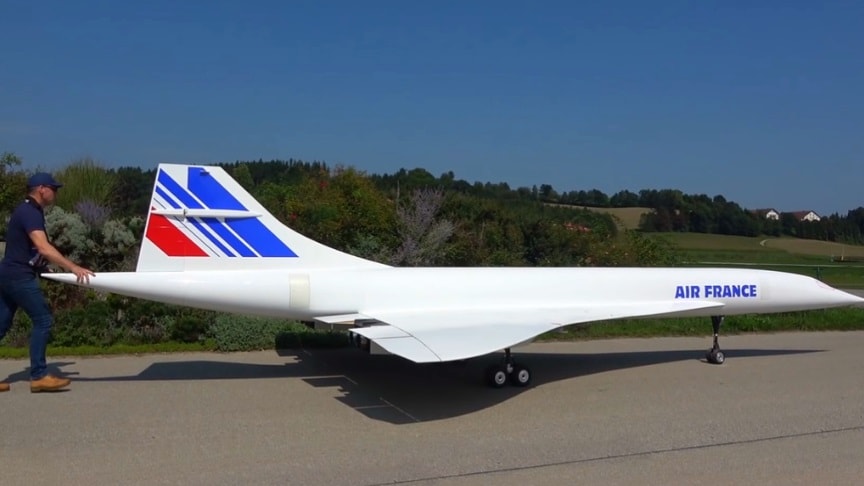 source/image(PrtSc): RCScaleAirplanes
At first glance we discovered that the model measures more than 10 m in length and.This RC Concorde can fly really well thanks to its 4 mighty JetCat P300 Pro engines! Just like the original, this RC aircraft takes on the skies without any problem whatsoever.The fuselage and wings are made of carbon fibre sandwich.
The plane itself was all handmade and driven by scale turbine engines. The cockpit even has a fully functioning "droop-nose" just like the real thing.
Advertisement
When the Concorde was in service, the pilots would lower the nose in order to improve visibility on take-off and approach, then raise it in flight for less drag.
Technical data:
Scale 1/6
Span: 4 m / 13 ft.
Lenght: 10 m / 33 ft.
Height: 1.85 m / 6.1 ft.
Weight: 149 Kg / 328.5 pounds
Turbine: 4x JetCat P300 Pro
Fuel Tanks Capacity: 4×6 liters / 5.8 Gallons (UK)
Gears: Pneumatic
Radio: PowerBox CORE
Receiver: PowerBox PBR-26D
Servos: 18x HACKER TD2612S
Air Tank: 30 liters