GiottiVan 60T Privilege by Rapido is a well-equipped campervan with smart solutions. The car has the largest bathroom in the class with separate shower, large fridge, Truma Combi Diesel heating system for year-round use and solar panels for camping everywhere.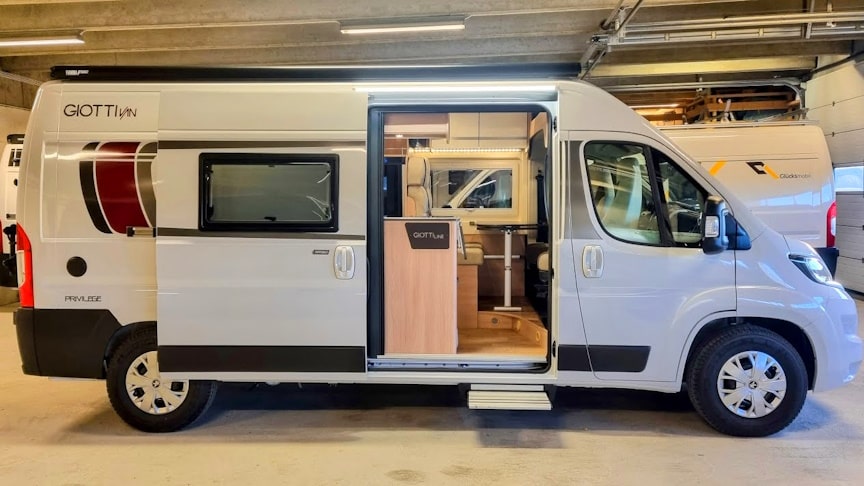 source.image: Bobilagenten AS
The motorhome is 5.99 m long, which makes it easy to tow around and easy to park. Can be parked in a regular car park. Here you get the best of both worlds, this can be used as an everyday car and for longer and shorter trips. Works as a passenger car on ferries and toll rings! Can be driven on a normal car driving licence, class B.
Kitchen with hot/cold water, cooker hood, and storage space. Note that the car has a large automatic fridge with freezer. This is the new model from Dometic that has a door that can be opened from both sides! Smart relief table in the kitchen. See the pictures and notice the LED lighting all around.
Advertisement
Reversible pilot seats with armrests and adjustments, air-conditioning system, airbags on both sides in front, on-board computer and robust Euro 6 Adblue – 2.2L Turbodiesel engine of 140 hp which, in combination with cruise control, makes the motorhome ready for travel. Large window surfaces and roof hatches provide plenty of light. The windows have curtains, blinds and mosquito nets.With a solar system, the car is also suitable for those who like free camping. Here, the car's battery is charged automatically.
TECHNICAL INFORMATION
Length: 599 cm
Width: 205 cm
Height: 260 cm
Chassis: Peugeot Boxer
Engine: 2.2L Euro 6 Adblue