We helped Josh's wife make a DIY Greenhouse with help from Lowe's. It was a fun & challenging build, but Lowe's is the perfect partner to help you finish your fall projects and get back to enjoying what matters.Josh began the design with a 3d model in Fusion 360. We got our bill of materials and the cut list then headed to our local Lowe's to get the supplies to begin framing the structure.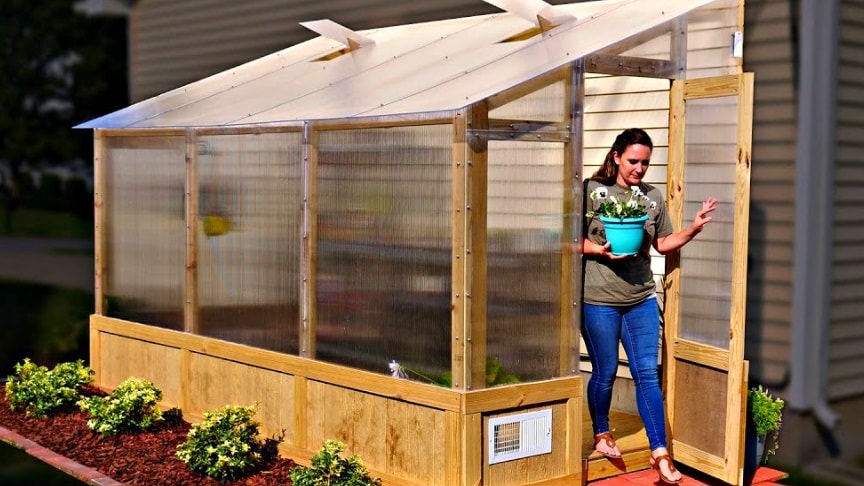 source/image(PrtSc): I Like To Make Stuff
Before adding a structure to your yard, you may chose to grate and level the area beforehand. Josh didn't want to tear up the yard, and here in Kentucky, the clay is super hard. In lieu of digging into the ground to level it, we chose to level the floor frame by adding 2×4 posts semi-driven into the ground. This way, Josh and i could level the floor and nail it to those posts along the span of the greenhouse./read more: I Like To Make Stuff
For the greenhouse floor, Josh wanted something that could resist any standing water that would fall down from the plants. We found some engineered siding panels at Lowe's that are weather-resistant and come in large, 4′ x 8′ sheets. These panels are only 3/8″ thick, so we added another layer of pressure treated 1/2″ plywood to ensure the floor was strong enough to walk on. We fit three of these double-layered panels on top of the floor frame, making sure to cut around the wall studs and secured them with screws.
Advertisement
For the greenhouse's exterior, it is possible to simply cover the bare frame with the clear polycarbonate sheets, but because of this greenhouse's size, that would take more than the 10 panels we allotted for this project.At this point in the project, we have a nice looking frame of a greenhouse. To make it functional as a greenhouse, we need a way to trap the radiant heat from the sun inside the structure. We found many ways to do this from using reclaimed windows, rolls of plastic tarp pulled tight, glass panes, and sheets of acrylic./via: I Like To Make Stuff